If there is one thing that helps an angler find and fish new areas on the water, it is a small boat. But boats can be expensive, large, and hard to maneuver. Luckily the rise of inflatable fishing boats is helping to solve these issues. These small boats are very lightweight, easy to get around in, and best of all, very cost-effective!
Each year it seems there are more and more inflatable fishing boats on the market, and each one will have its own set of pros, cons, and price tags. Which ones should you be looking at? Well, we have compiled a shortlist of some of the top inflatable fishing boats that money can buy, and why you may want to consider them!
Sevylor Tahiti Hunt and Fish Kayak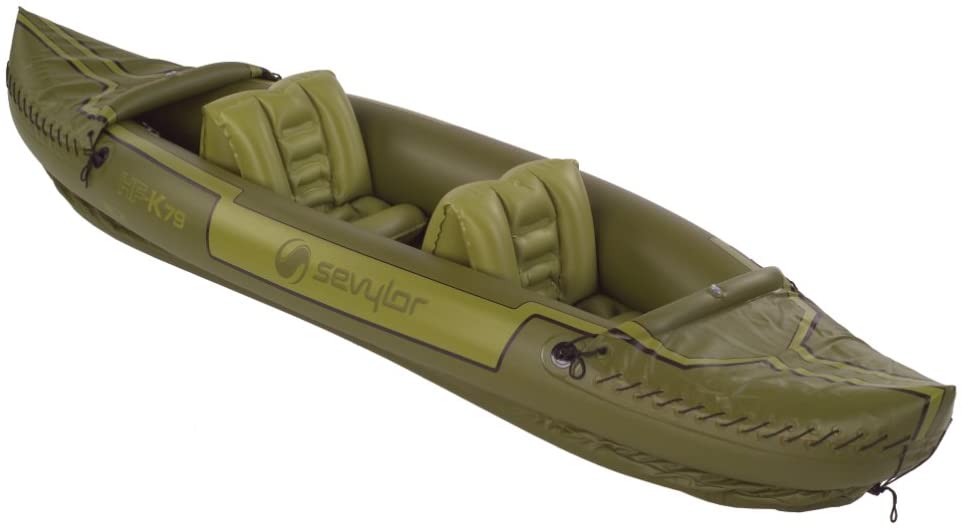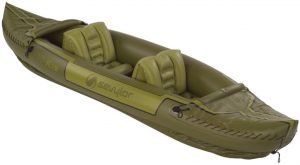 First on our list is a budget-friendly option that will allow you to fish just about anywhere due to its small size and versatility. The Sevylor Tahiti fishing kayak is the perfect entry-level inflatable boat that may not feature things like rod holders or a place to mount a motor, it makes up for with its incredible price tag and features like moveable seats, spray guards, and large storage space.
This inflatable boat is designed to comfortably fit two people and has a maximum capacity of 360 pounds. It is very comfortable and spacious for an inflatable boat, and many anglers will say it is very stable and solid. If you want to be able to fish from a boat but don't want to break the bank, this is a great and affordable option that will give you everything you need out of an inflatable boat.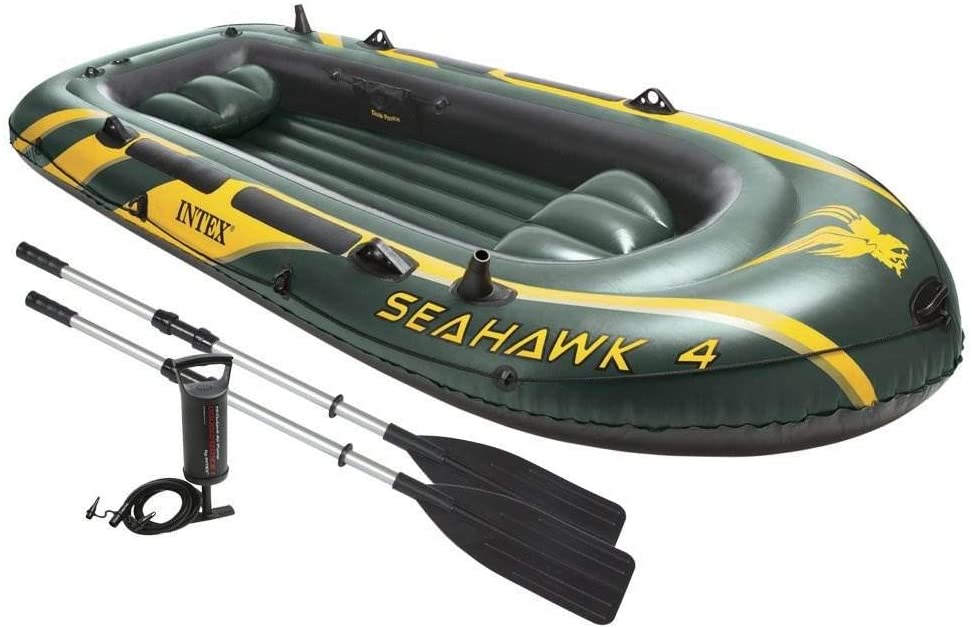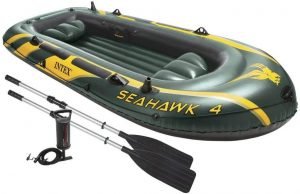 Next on our list is a larger option that is still capable of being folded down and fitting in the trunk of a car for easy travel and storage. This is one of the best inflatable boats that come in at a great price while providing great features like high strength vinyl for the best resistance to wear, tears, and cuts.
This boat is super comfortable and spacious, giving you extras like fishing rod holders and plenty of room to hold gear or additional anglers. It comes with everything that you will need to get out on the water, and all at a price that won't cost an arm and a leg. While it does not have a place for an outboard motor, it pretty much has everything else you could want or need.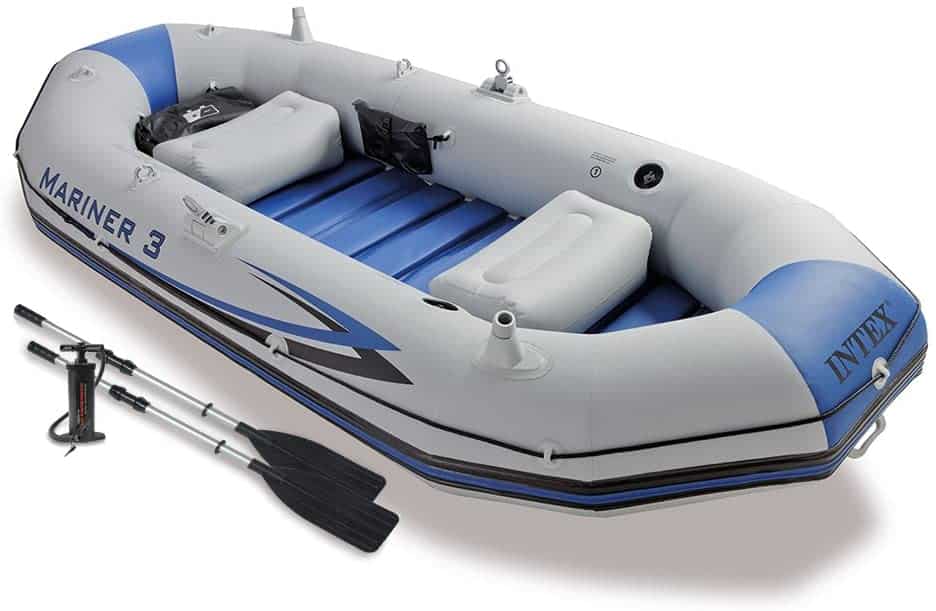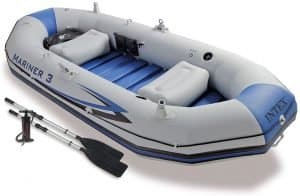 For anglers wanting a high-end inflatable boat where the price is not so much an issue, the Intex Mariner is a great model to consider as it comes with many more features than a regular inflatable boat. It is made of a stronger molecular plastic that makes it much more durable to damage like cuts, impacts, and even sunlight.
This boat has a rock guard to protect the hull, plus many different valves for quick fill-ups and even faster deflations. It also has fishing pole holders and oar inserts to allow you to use oars for quicker travel. If you want an inflatable boat with all of the bells and whistles, then this is the one for you!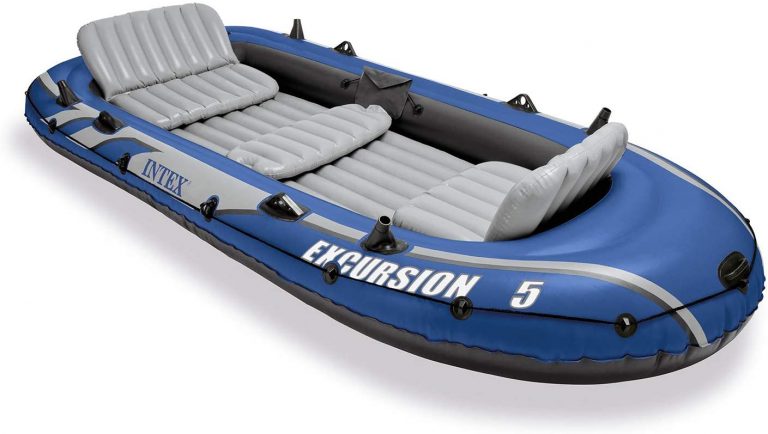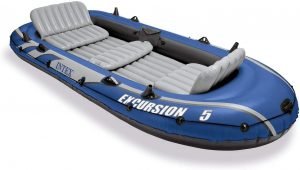 Next, we have another product from Intex, the Intex Excursion 5. Even though this boat is marketed as a five-person boat, is definitely best used with two or three people max. This boat has four fishing rod holders, two chairs, and a bench seat in the middle. As you can see, it is designed for plenty of people to get out on the water!
This boat can also accommodate a trolling motor, giving it even more versatility. This boat is easily one of the most popular models on the market. This inflatable boat is best for anglers who want a boat that works well, has plenty of space and is still affordable. While you cannot really stand up in this particular boat, it still serves as a great option for most fishermen.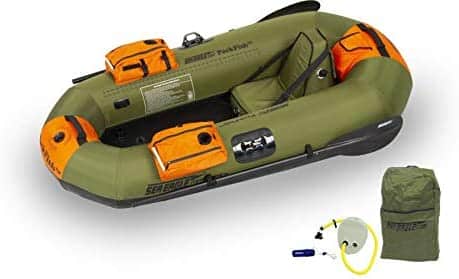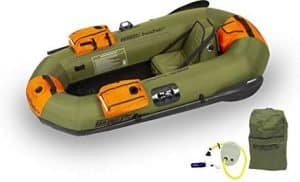 Last on our list is a smaller inflatable boat that is easily the fastest and most maneuverable boat due to its smaller size. While it can only hold one person, it is extremely lightweight and will get you anywhere you need to go, even where other larger inflatable boats cannot reach. It has a max capacity of 300 pounds and has plenty of storage space for extra gear due to its gear storage compartments on the sides of the boat.
This boat is also very quick to inflate and deflate, in fact, most anglers report that it usually only takes an average of five minutes or less. While it is the smallest option here on our list, many anglers who fish solo will appreciate everything that this small inflatable fishing boat will give them. This boat still has plenty of nice features that other larger models like a comfortable seat, oar holders, and plenty of legroom. If you mostly fish by yourself, this is one great option that you should be considering.
Inflatable Fishing Boat – Final Thoughts
A good inflatable fishing boat can be a game-changer when it comes to exploring and fishing new waters that other anglers cannot access. Technology has come a long way in transforming these inflatable boats to allow you to get one at a great price. They will also last you a long time, so there is no reason not to get out there and get yourself a new inflatable fishing boat to up your game!