Fishing is increasingly growing in popularity, and even more so with the current conditions in the world. But many times we find ourselves fishing from the river bank or shoreline on a lake and wonder how we could get to the deeper waters. Do you really need an expensive fishing boat to do it? What about a simple kayak? How can you find the best fishing kayaks?
Kayak fishing is the perfect way to not only get some exercise but to explore new water that you can't regularly access from the shore. They can even get you to places that the big, expensive fishing boats can't go either. They are simple, durable, and easy to use. Many don't realize it, but they can also be extremely affordable as well!
There are many great kayaks out on the market that you can buy for under $1000. While it is true that kayaks at one time were very expensive because of the material and process used to make them, but thanks to increases in technology, they can now be had at some amazing prices. Here is our list of some of the best fishing kayaks that you can buy right now for under $1000!


Most anglers might overlook the Coleman Colorado for fishing, but this excellent little rig has proven itself time and time again. This inflatable kayak has the ability to take a beating and can survive in the biggest impacts without getting punctured. It weighs around 40 pounds, and comes in at around 10 feet in length, making it large enough to comfortably hold 1 or 2 people, but still small enough to manage if you are by yourself.
Because this is an inflatable kayak, it comes equipped with different air chambers and its own airtight system in order to prevent any air loss from leaks or tears. You will also be happy to find multiple added accessories such as a quick set pole holder to hold your rod after you have cast, or a paddle holder to keep your paddles secure while you are fishing. All of this comes included for under $1000, making this kayak a great choice for both beginner and advanced kayak anglers alike.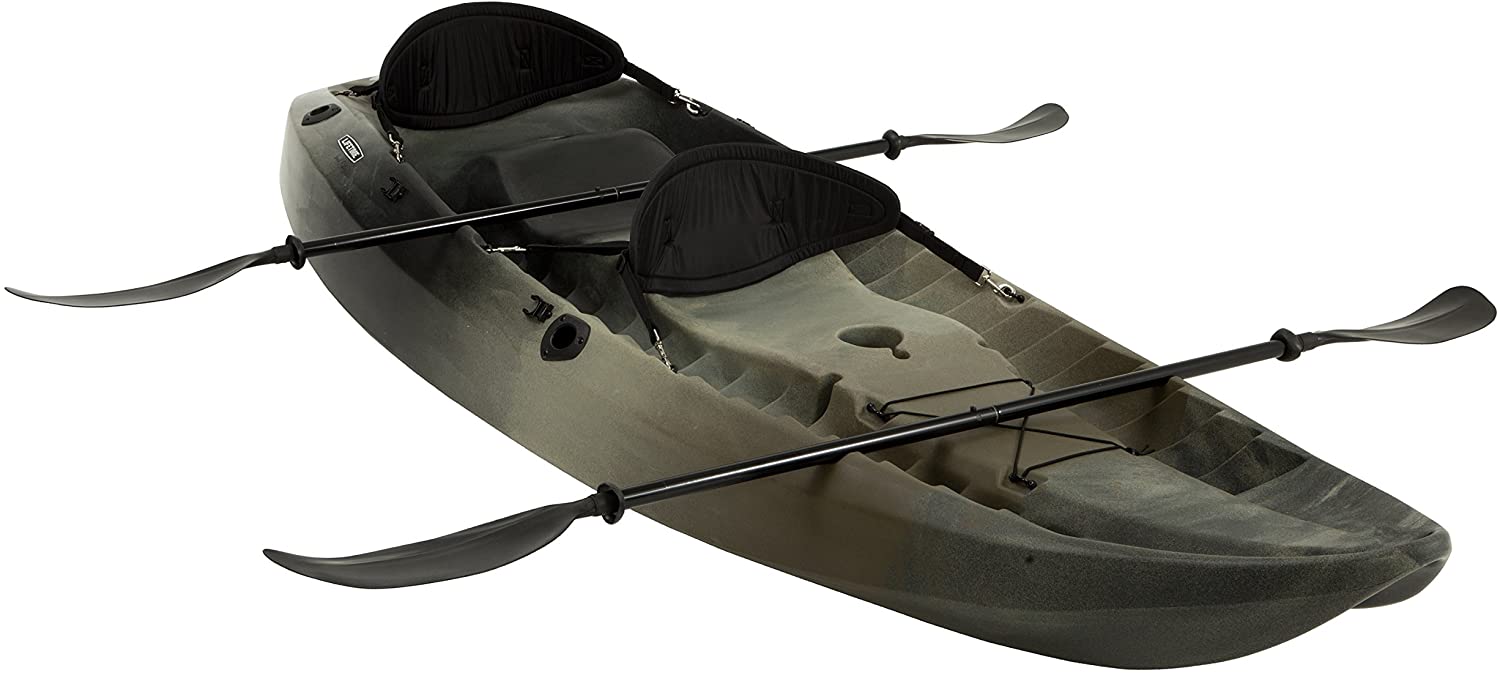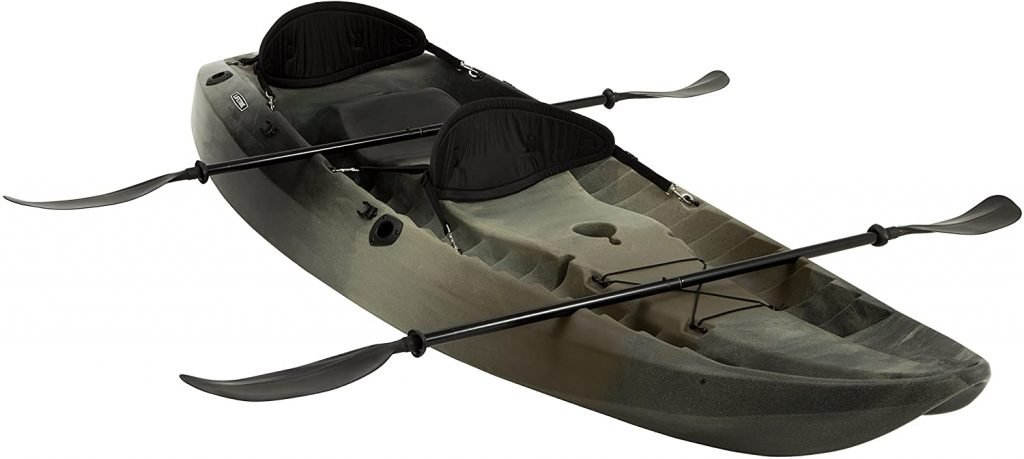 Made of high-density polyethylene, this kayak is another two-person option that will give you plenty of space to comfortably accommodate two anglers but can easily be managed by one if necessary. It has enough strength, durability, and power to easily withstand any situations you might encounter out on the water and is designed to prevent any fading, cracking, or peeling due to extreme use. This kayak will last you for many years to come!
At 10 feet long, this kayak can handle weights up to 500 pounds, giving you the ability to kayak with any family or friends you want or to bring as much gear as you need on a long fishing trip. Thes seats on this kayak sit a few inches higher than most, giving you a better viewing angle over the water. This is great for fishing and coupled with its great price and ease of use, this is a great kayak for beginners that want a good fishing kayak that they can take anywhere.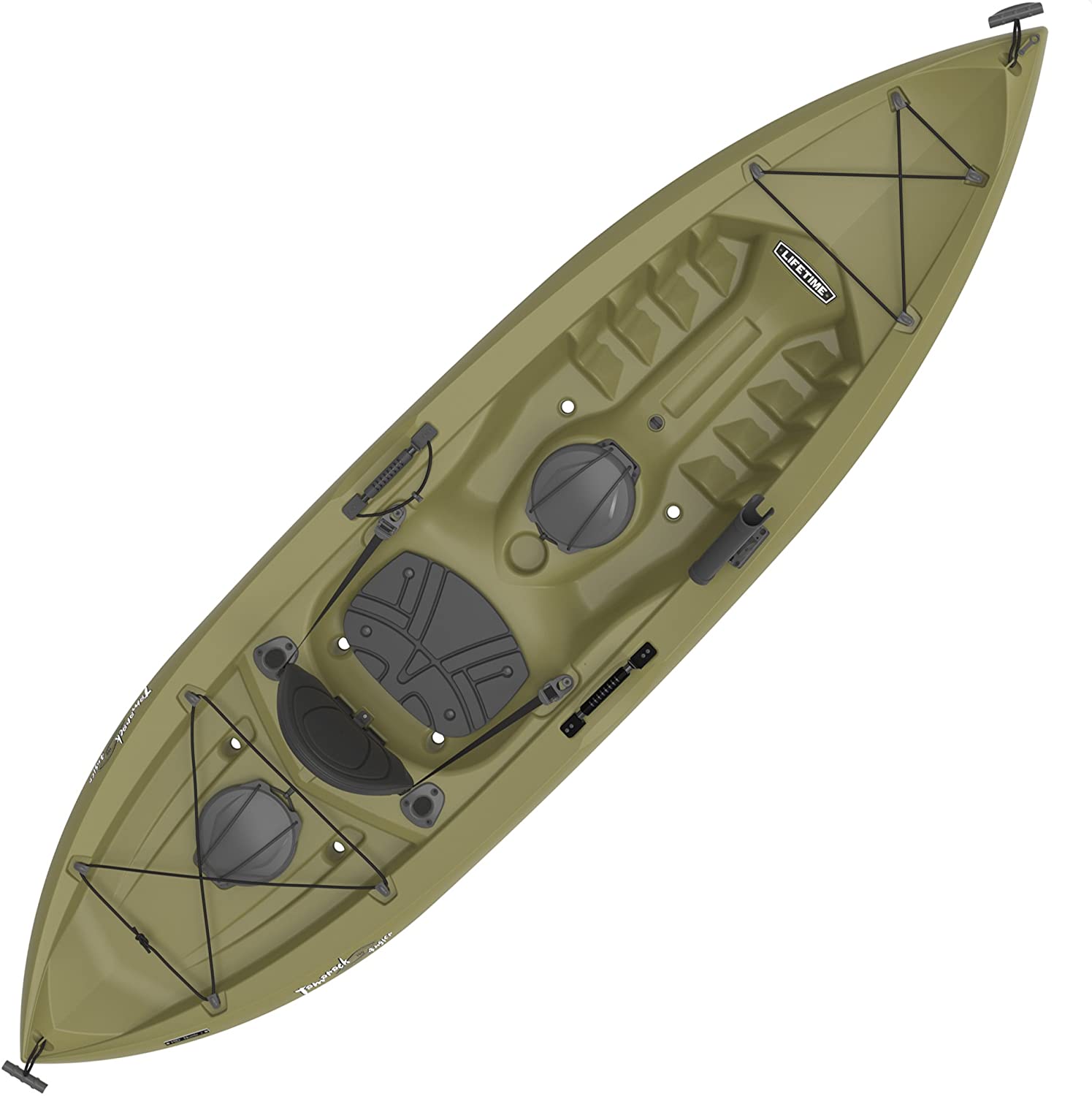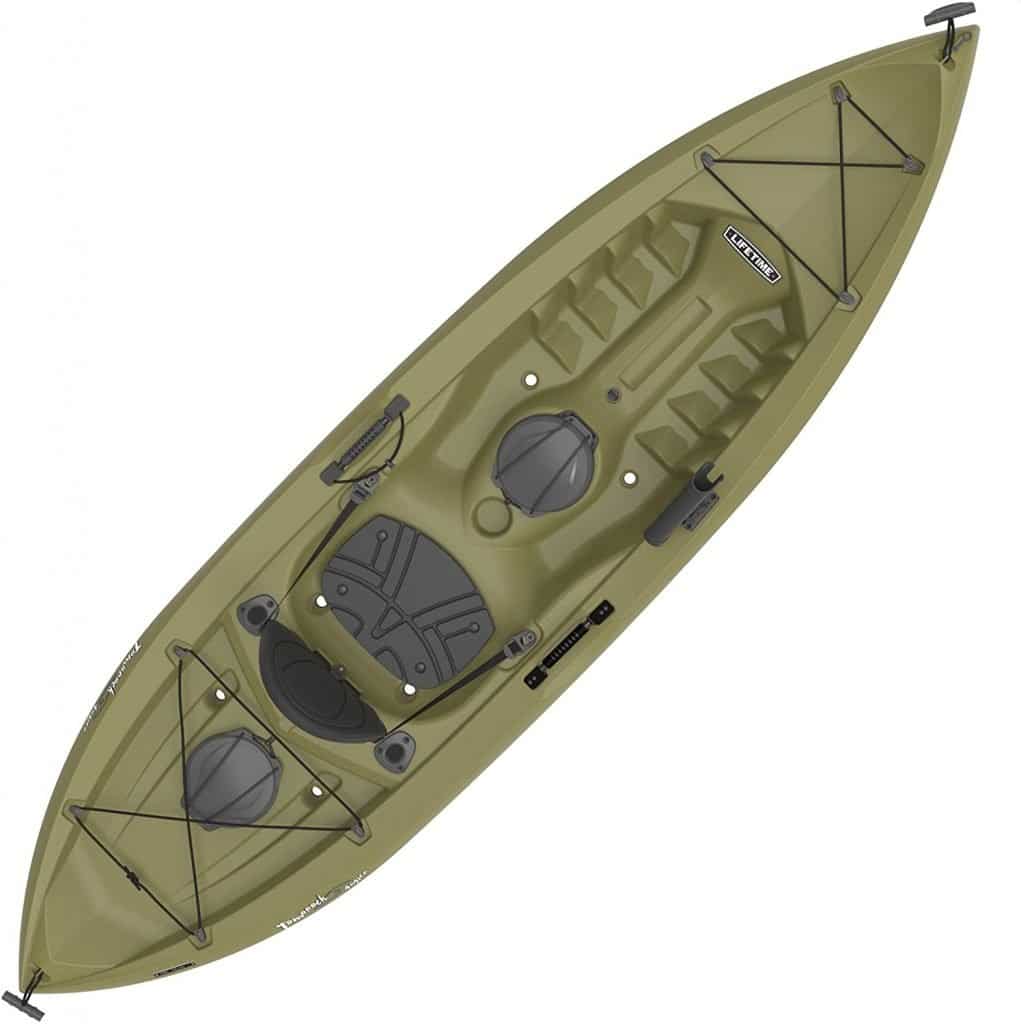 One of the most budget-friendly kayaks on the market, the Lifetime Tamerack kayak is made of a UV-protected polyethylene that is very light and durable. It has an adjustable seat back that, along with the bottom, is padded for added comfort. There are two fishing rod holders along with two storage compartments to help carry as much fishing gear as you want to bring along.
Even though it is one of the most budget-friendly kayaks, the Tamerack is still very high quality. It has a weight capacity at 275 pounds and is light enough to easily maneuver and carry by yourself. It even comes with a 5-year warranty should you need it, and this kayak comes with enough extras and accessories to make anyone happy with this purchase!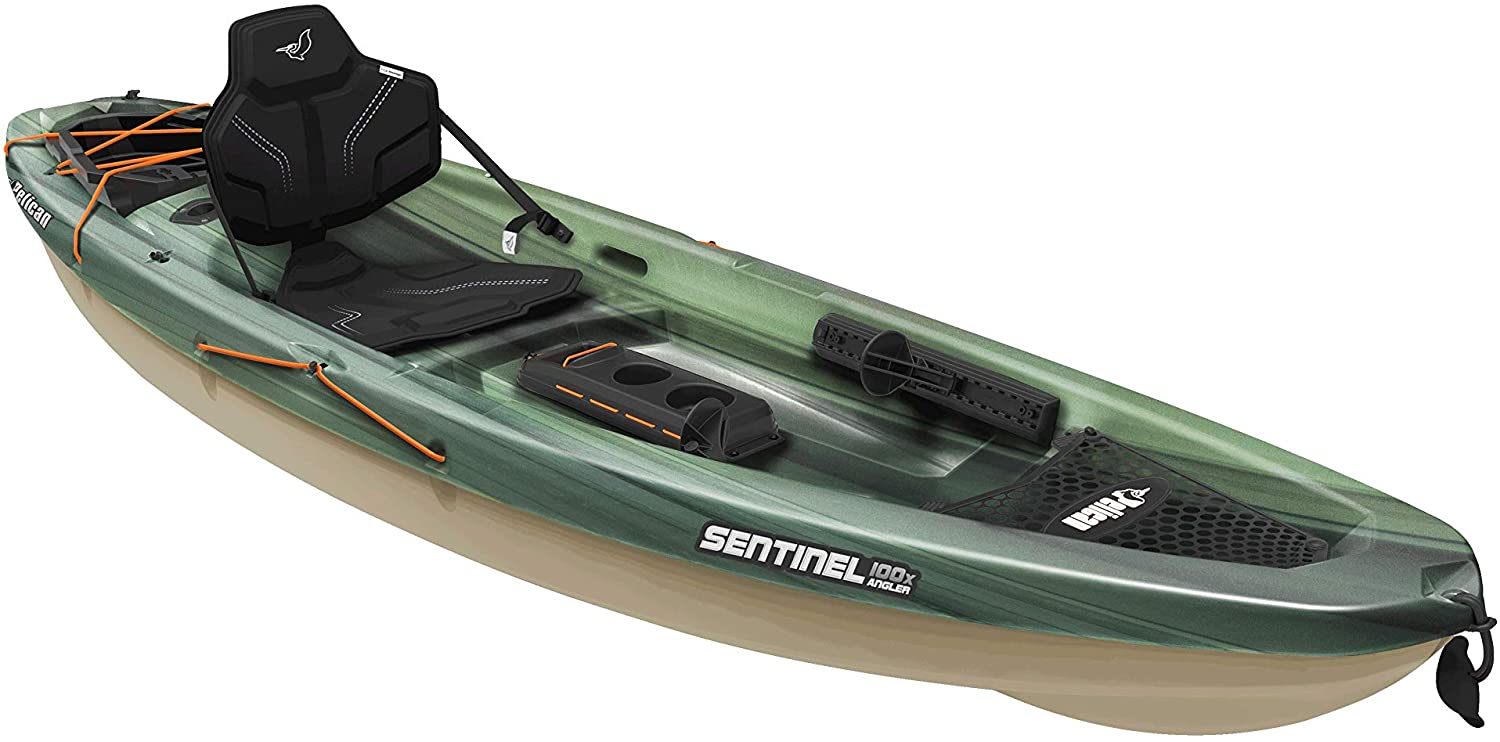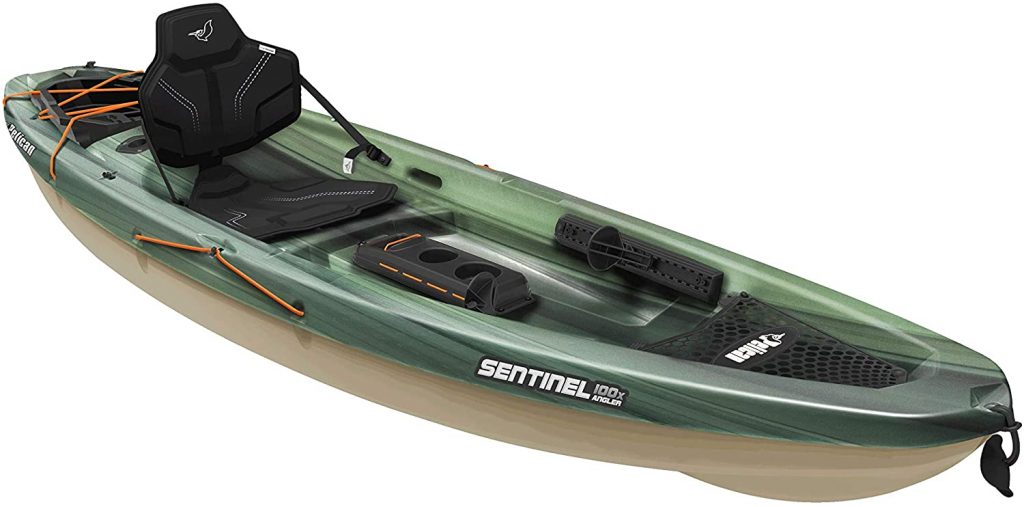 Another very budget-friendly option, the Pelican Sentinel has a flat, multi chan bottom that will give any angler added stability when casting out or reeling in a fish. This is especially great for beginners who are just learning how to maneuver and fish from a kayak. Weighing only 44 pounds, it is very lightweight and can be easily transported and stored by one person.
With added storage compartments, accessories, and the ability to get a good view of the water because of the "sit-on-top" design, this kayak is a great choice for beginners who are still wary about tipping over while out on the water.


If you are looking for a slightly more high-end kayak (while still staying under $1000) then the Perception Outlaw is a very high-quality rig while still staying under budget. Made in the USA, this kayak has plenty of storage compartments, a comfortable seating system, and a big one-piece design construction to give it unbeaten durability.
Weighing in at 77 pounds, it is slightly heavier than others on our list but it has a high weight capacity at 425 pounds. Every part is made and assembled here in the United States, and the attention to detail is apparent when you climb aboard this rig. Perfect for any type of condition, this luxury kayak even has a built-in cup holder to fit your favorite drink!
Best Fishing Kayaks Final Thoughts
Kayaks have come a long way, and now they are much more affordable for just about any angler. With a kayak at your disposal, you can access so much more water than you never could before. Hopefully, these 5 kayaks under $1000 can be a great starting point to find the best fishing kayak for you!