Putting a good fishing reel on your fishing rod is very important, as each different type of fishing reel is different and will require different skills and functions. This is one of the most important pieces of your fishing gear, so it is important to take the time to find and use the right fishing reel. So what are the different types of fishing reels?
Spincast Reels
A spin-cast reel is often referred to as the easiest fishing reels to use which is why they are often the best choice for beginners and children. These reels will have a cover or closed face that keeps all of the moving and working parts of the reel protected. Using these reels only requires an angler to push a thumb button down while casting, and once it is released, the line will stop once the reel is started to be used. While these reels aren't the best for accuracy, distance, or power, they are still a great choice for many anglers. Here are a few of our favorites!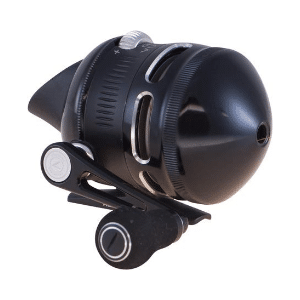 Zebco was the original inventor of the spincast reel, so it is no surprise to see them on this list. With their Omega reel, an angler can get a quality reel at a great price. It is the first 7 bearing spincast reel, making it much smoother and easier to use than its competitors.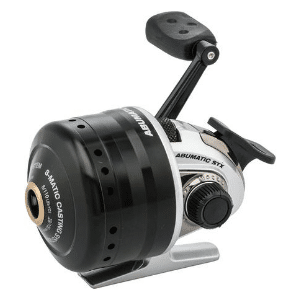 Abu Garcia is one of the most popular fishing brands in the entire world. They have many classic designs and styles on their fishing equipment, and take something simple and make it high quality. Their spincasting reels are no exception, and this reel is very small, lightweight, and functions flawlessly. It is a good reel at a great price with a very modern appearance to it.
Baitcasting Reels
Baitcasting reels are usually only used by more advanced anglers as they are very difficult to control and can be much harder to use. But once you can properly use it, a baitcasting reel will allow you to have much more control and accuracy while fishing. When you cast, you must keep the spool under control or else it will turn into the infamous "birds nest" where the line builds up and tangles on itself. If you an experienced angler or want to give them a try, here are a few great picks.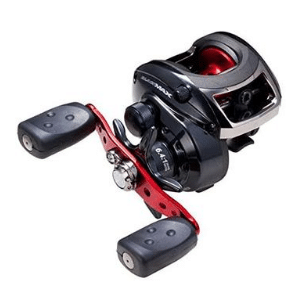 Another great offering from Abu Garcia, the Black Max baitcasting reel is a great choice for anglers who are on a budget. It has a very low profile design and will be very comfortable to fish with all day long. The sides of this reel are made from graphite, and the spool and mechanical parts are all machined aluminum to give it extra strength. It can be bought in either a left or right-hand version to better suit more people.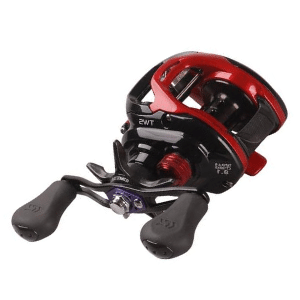 One of the best baitcasting reels out on the market, the Daiwa Tatula is a great option for everything freshwater fishing. Like the Abu Garcia reel, it also has a low profile design that will give you great ergonomics while out fishing all day. It has a super lightweight aluminum design-build that will protect it and make it last for years to come.
Spinning Reels
Spinning fishing reels are easily the most popular types of fishing reels used by anglers on all levels of expertise as they are easy to use, accurate, and have a great design. Thanks to their open-faced operation, they have great versatility and will be able to handle and use many different types of fishing lines. Here are a few of our favorite spinning reels!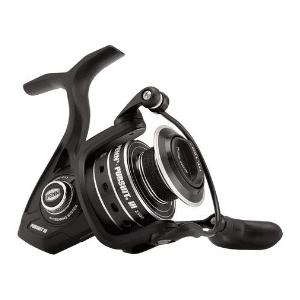 The Penn Pursuit II spinning reel is a great choice for any anglers that might be on a budget and don't want to spend a ton for quality gear. It has five different models, each giving you a different level of drag and gear ratios. All of the models are very lightweight with their graphite bodies and aluminum spools, and you will be very happy with the price tag and performance out of this reel.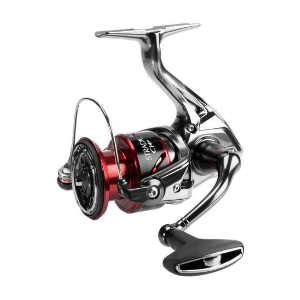 For anglers who simply want one of the best spinning reels out there, the Shimano Stradic has a beautiful design and was made to be a luxury reel at a good price. It has very smooth controls and casting, and is very easy to adjust the drag. The gears and spool are all metal and have a perfect mix of power, strength, and smoothness.
Fly Reels
Fly reels are designed to be uses specifically with fly fishing rods. They have a very different design from other traditional types fishing reels. These reels are to be used with a fly fishing line, also very different from the traditional fishing line. Here are a few of our favorites!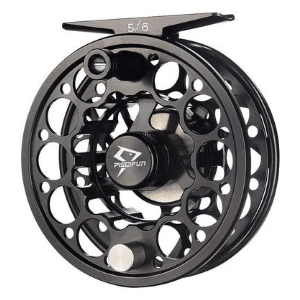 The Piscifun Sword has a three year warranty and very smooth drag. The Piscifun Sword reel is a very solid and lightweight fly fishing reel designed to be as durable as possible. It can withstand fresh or saltwater and is very impact resistant.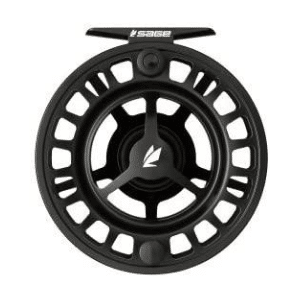 With a sealed system that keeps water out of the drag, the spectrum fly reel is a very durable reel that pays attention to the small details. It has a full aluminum construction that gives it even more strength, and it comes in at a great price.
Final Thoughts
No matter what types of fishing reels you are using, finding the perfect reel is very important in the process of using the best gear that you can. Using the proper fishing reel will no doubt result in much more success while out on the water. And will be much more enjoyable to use! You might also consider a rod and reel combo.