Most fishing is usually done during the summer months, or whenever the weather is warm and sunny outside. While this means some great fishing conditions, it also means that anglers have to battle the hot sun, UV rays, wind, humidity, and bugs. In order to have a great day out on the water and enjoy a successful day of fishing, not only to you need the right tackle, but you need the best fishing shirts!
A good fishing shirt could mean the difference between a great day of fishing and a miserable one. It should not only be comfortable, but it should protect you from all of the elements. You want a shirt that will keep you cool when the sun is out, or that you can layer for when it gets cold.
There are plenty of good fishing shirts out on the market, but we have selected five of the best fishing shirts for men that will give you comfort, performance, and plenty of protection for your next fishing trip. Not only that, but they are also stylish too!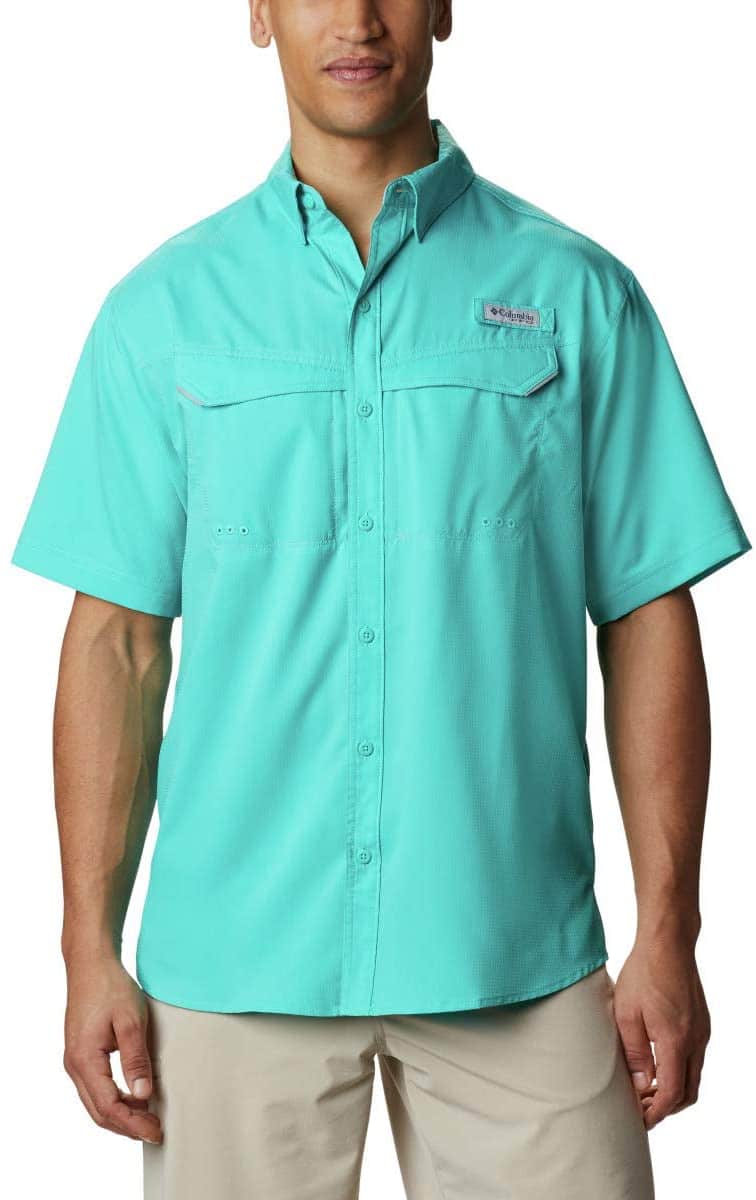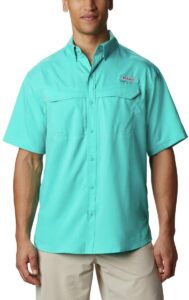 Columbia is a very popular brand among anglers, and are known for producing high-quality fishing shirts that not only look good but are very durable. While their shirts can be a bit pricey, they do have plenty of options at all price points. The Bahama II was specifically designed for fishing in hot, sunny weather. It will give you built-in sun protection and lightweight breathability.
This shirt has nylon construction with UPF 30 sun protection, UV reflectors, and made using Columbia's Omni-Shade fabric. This makes it very durable and abrasion-resistant for fishing in brush or thick cover. The fabric used in this shirt even has the Skin Cancer Foundation's Seal of Recommendation, so you know you are covered well! 14 Colors available.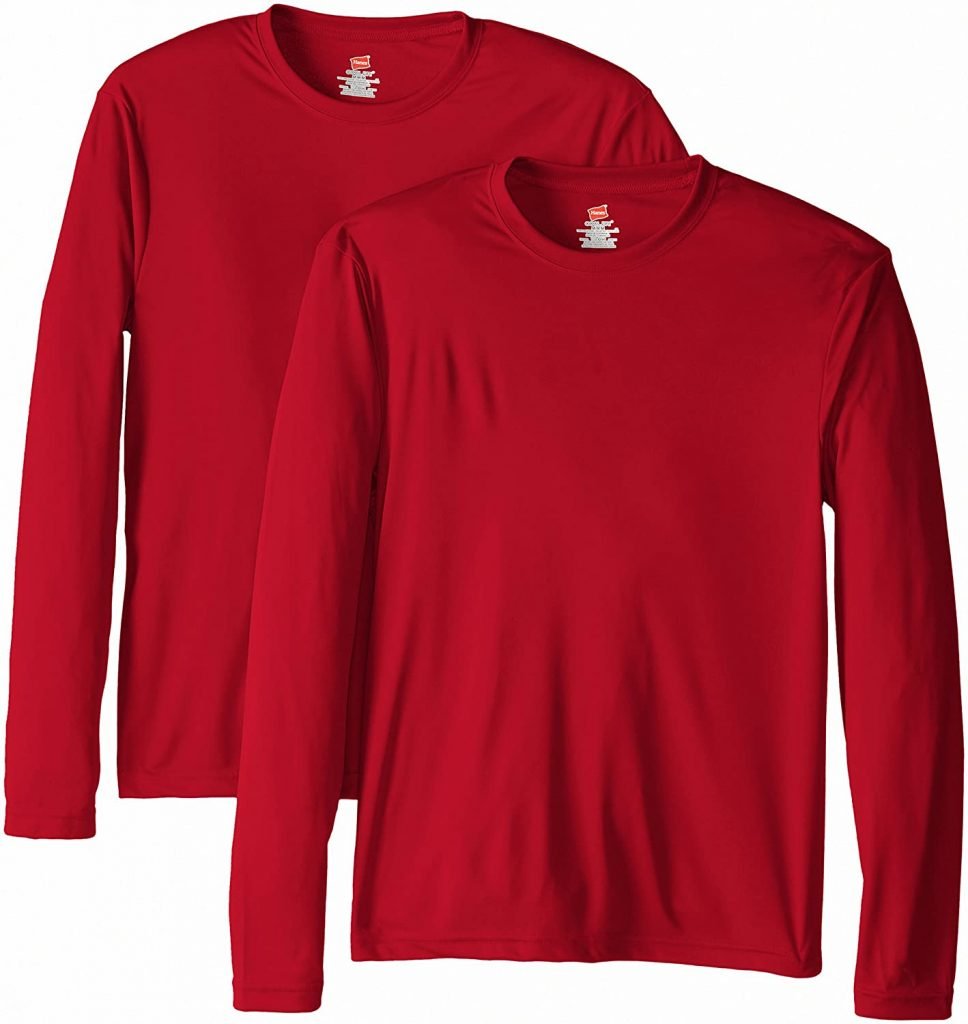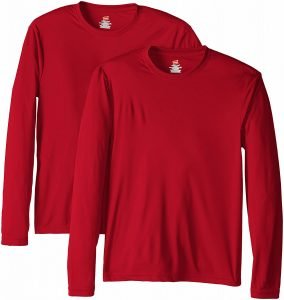 Hanes is a company that has been making casual and work apparel for a very long time, so it is no surprise that they offer some great options for fishing. This cool dry shirt has almost everything you could ask for in a fishing shirt, especially if you plan on wearing it on long trips in the sun or humid environments. Made of 100% polyester, this shirt is super lightweight, wicks away moisture, and dries super quick.
The shirt itself is well made and durable, featuring double stitching in high-stress areas. Because it is long-sleeved and provides UPF 50+ sun protection, this shirt will keep you safe from the sun as well as bugs. The best part about this shirt is that it is very affordable, and is one of the best long-sleeved fishing shirts out on the market at an incredible price.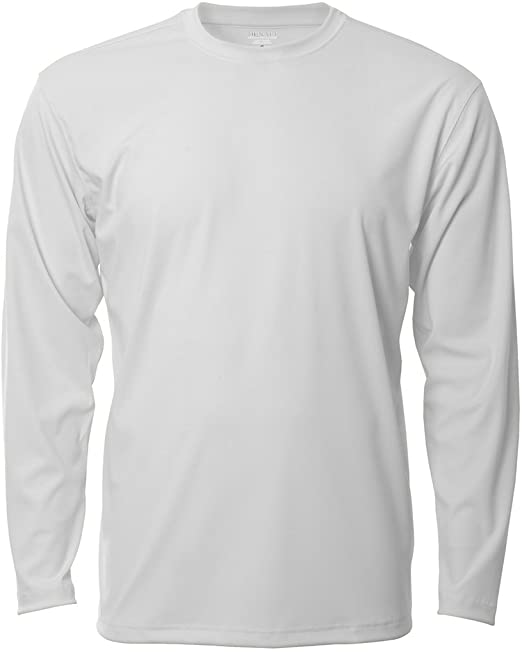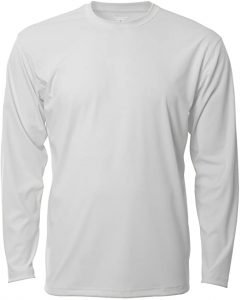 Another great sun protection fishing shirt, the Denali UPF 50+ Protect UV comes with the Melanoma International Foundation's seal of approval because of its superior protection against UVA and UVB rays. With the long sleeves and stylish design, this shirt is a great product from an established company that is known for making some of the most durable clothes in the world.
Constructed of microfiber, this shirt is extremely soft and comfortable on the skin, but it will still help to keep you cool and wick away any moisture on your skin in order to keep you comfortable. At a great price and available in over 21 different colors, this shirt will not only keep you comfortable but will allow you to stay stylish as well.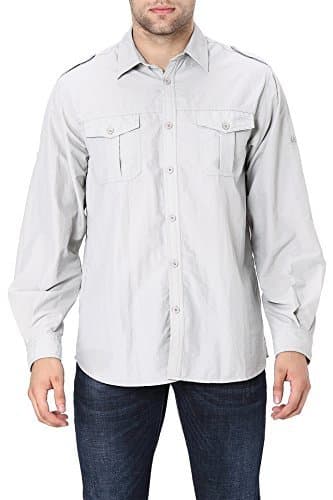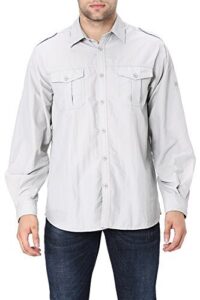 If you need a great fishing shirt that will keep you cool and comfortable while on the water but aren't necessarily concerned about sun protection, then this Trailside Supply Co. shirt is a great choice. While it does not have any UPF sun protection ratings, it still does offer some protection from the sun, as well as from any bugs like mosquitoes. It is made of 100% nylon, making it a very durable shirt to shield you from the sun and wind.
The fabric on this shirt has been treated with water repellent and anti-insect repellent so that it will keep you comfortable in either situation and allow you to focus on your fishing. It has a mesh-lined vent on the back to allow it to breath easier in warm weather, as well as the sleeve buttons to be able to roll up the sleeves and adjust them as you need. This shirt gives an angler plenty of variety and options, making it a very versatile fishing shirt!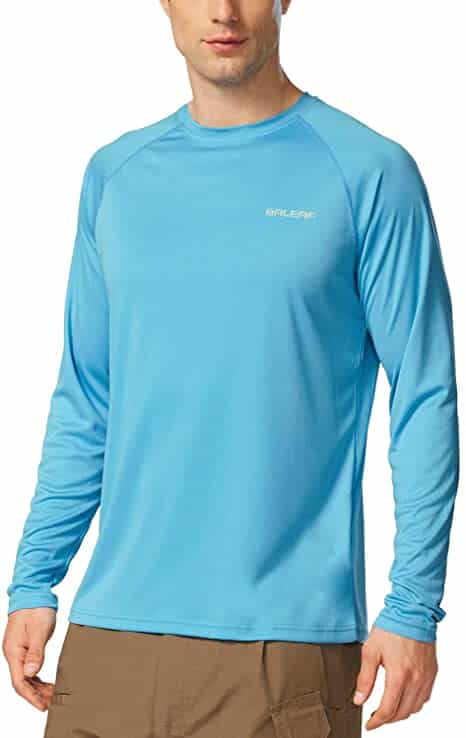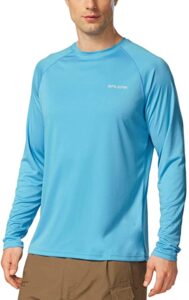 The most affordable option on our list, the Baleaf fishing shirt will also give you the most options when it comes to colors and variety. It is available in both long sleeve and short sleeve options, depending on your preference. It is made of 100% polyester, making it extremely lightweight and very breathable for hot and humid weather.
This shirt has a UPF 50+ rating that will protect you from the sun's UVA and UVB rays, while the flat seams are designed to be as minimal as possible to avoid discomfort or chafing. If you opt for the long sleeve option, the sleeves have been purposively designed to provide a full range of motion. If you want plenty of options for sizes, colors, and functions, then the Baleaf Dri Fit SPF fishing shirt might just be the one for you!
Final Thoughts
Fishing can be enjoyed throughout the entire year, but its no secret that the majority is done in warmer months and weather. Just as you would carefully select your ideal fishing rod and reel, you should also select and wear the proper clothing in order to keep yourself properly protected and to be as comfortable as possible. Hopefully, you now have a good starting point to find the best fishing shirts for men for you!