One of the best parts about fishing is the ability to connect to nature, enjoy everything the outdoors offers, and having the chance to do it while enjoying a relaxing hobby. But while it can be a lot of fun, it is also important to remember to take a few simple precautions. One of your biggest enemies while outdoors is the sun. Sun protection while fishing is one of the most important aspects that you can prepare. You have to bring the sunscreen and have a quality hat on your head every time you head out to fish. In order to help you find that perfect hat, here are some of the best fishing hats on the market today!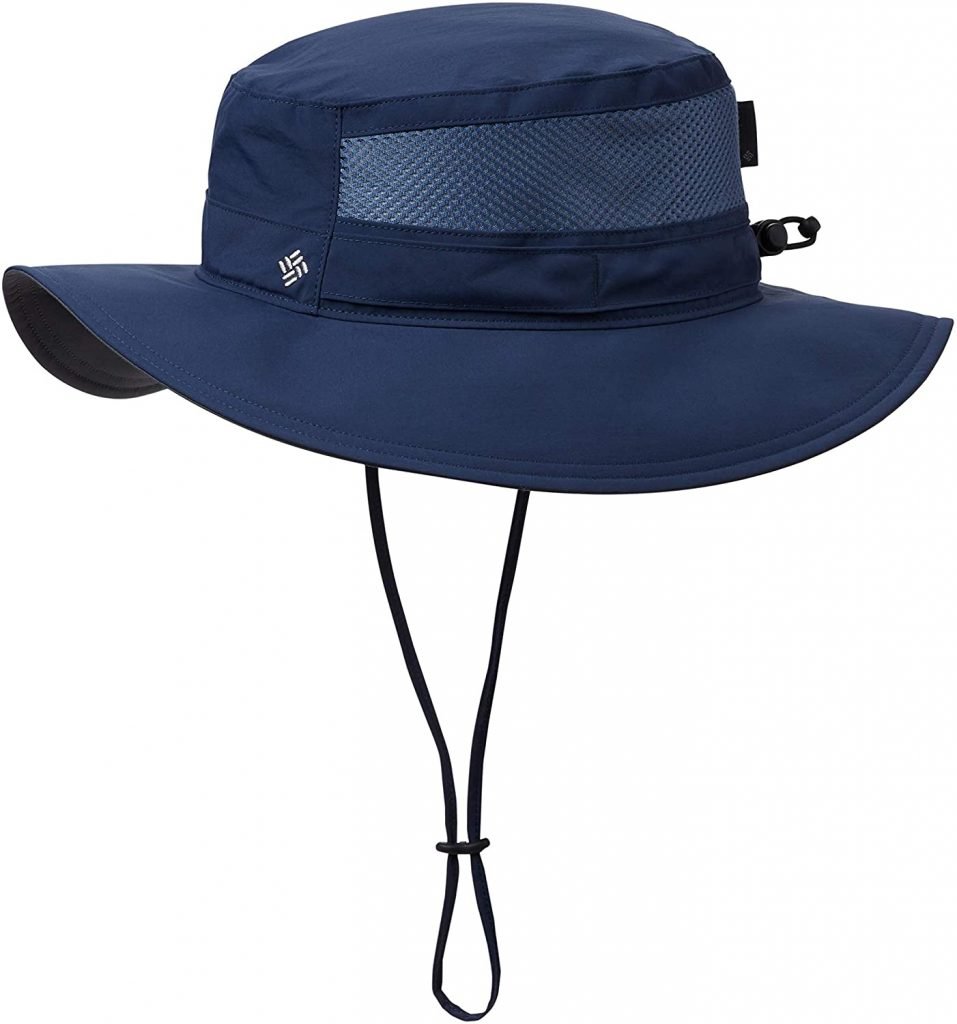 Columbia makes exceptional gear, and this hat stays true to that. As far as sun protection goes, it is one of the best out there. It blocks out a crazy 98 percent of all UVA and UVB rays, making it one of the best sun protecting hats out on the market. This hat is made of nylon and has a mesh vent in order to allow airflow and keep you cool.
The Bora Bora includes a chin strap to keep it on in rough conditions, and overall is one of the best picks for sun protection that you can get. The only downside, however, is that Columbia gear is not cheap and the quality comes with a higher price tag.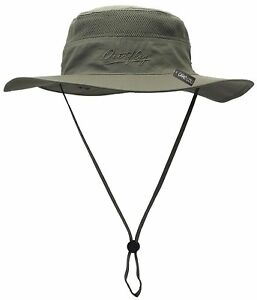 With a simple design and excellent finish to help you stay out in the woods longer, this hat is the perfect choice for anglers who want a great hat without breaking their budget. Make of a cotton and polyester blend, it has a wide brim that offers plenty of sun protection. It has adjustable straps to hold the hat in place and is very lightweight and easily portable.
Because of its lower price tag, it may not feel as high quality as other hats on our list but it is a great option for anyone who doesn't want anything fancy or does not want to spend a lot of money on a basic hat!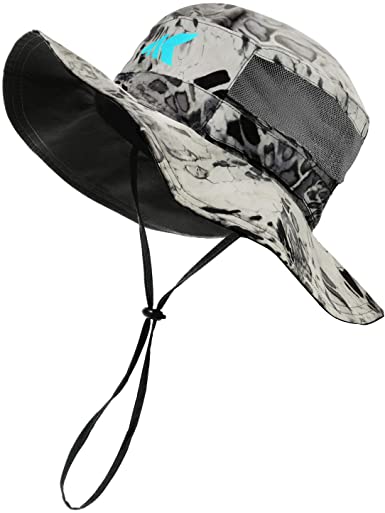 Not only does this hat come in at a great price point, but it has built-in sun protection that you can generally only find on higher-end (and higher-priced) fishing hats. It also features a strap to keep the hat on your head even in windy conditions, and a mesh strip to allow for maximum airflow to keep you cool all day long.
It offers a UPF 50 protection to keep you protected from the sun. This hat is also available in over nine different colors, giving you options that very few other hats do. As far as value and pricing go, this is easily one of the best choices on our list!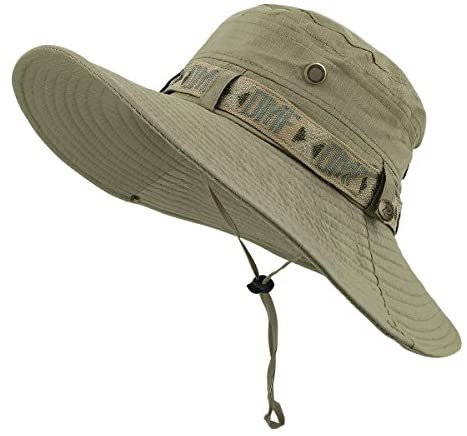 Made up of a 100% polyester, this particular hat breathes better than perhaps any other hat on our list. It has a very wide brim to help cover you as much as possible and protect you from the sun.This hat has an adjustable chin strap to keep you comfortable and to keep the hat on your head at all times.
Lethmik is very lightweight and has buttons on the brim and the sides of the hat in case you wish to snap the sides up. Overall, this is a great and stylish hat for those wanting something that breathes extremely well and will hold up to use and abuse.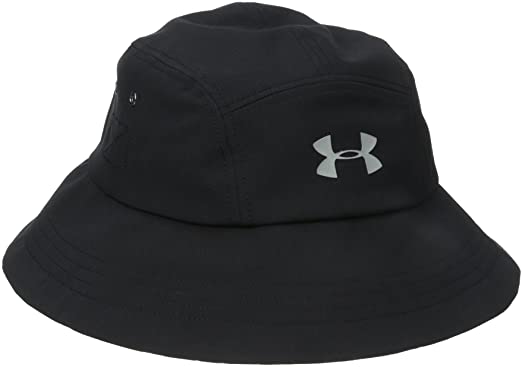 This tactical bucket hat for men is a lightweight and stylish option for those that want something a little less flashy or big as other fishing hats. It is made of polyester and is much stiffer than the traditional floppy Boonie hats. This gives it a very secure fit on your head.
This lightweight and durable fabric has been made to keep you cool while you are out in the sun, with a sweatband that gets rid of any moisture so that you feel comfortable when fishing. It also has a drawcord for a secure fit and Flatlock seaming for a smooth and non-chafing feeling against your skin.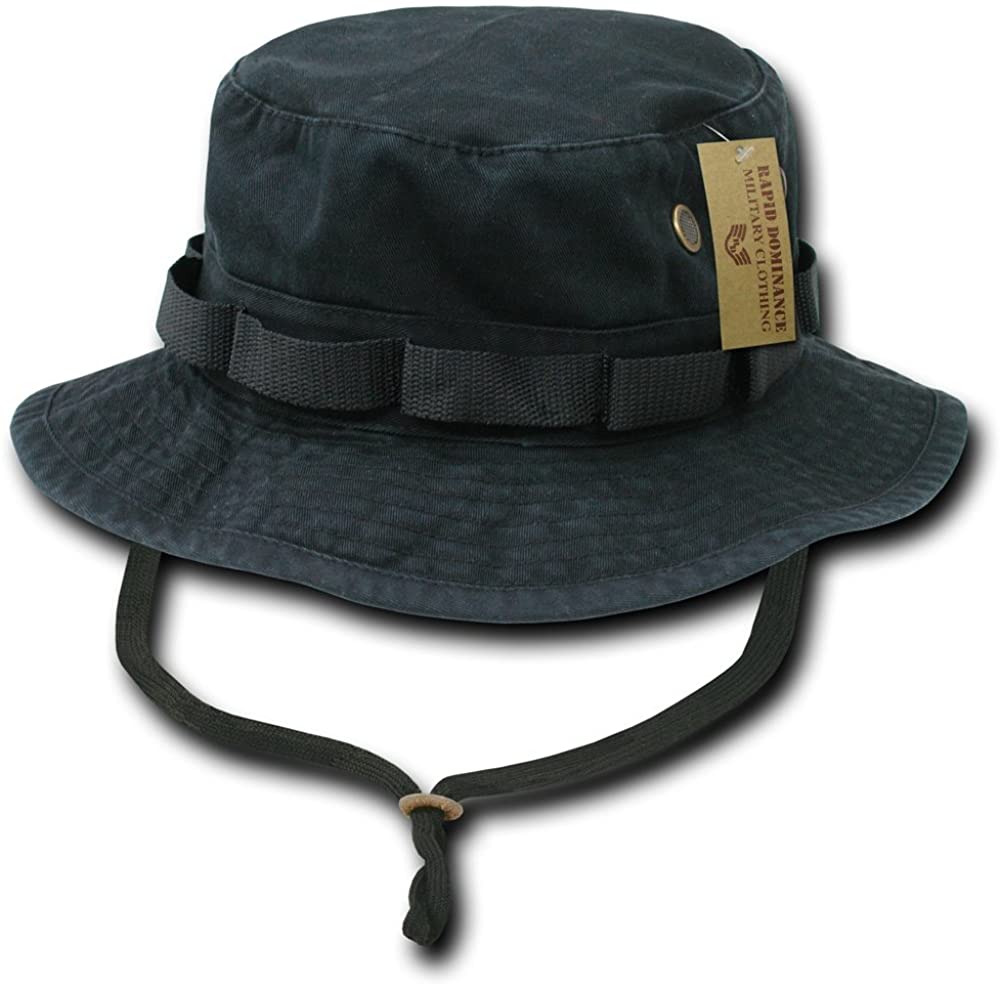 The Rapiddomincance boonies are not only very comfortable, but they are very functional and will provide you with plenty of shade from the sun. This particular hat is made with 45% polyester and 55% cotton, as well as metal side mesh vents to help airflow and get rid of sweat.
This boonie follows military specs and has a chin strap with a leather cord lock, so the hat will not fall off of your head. The brim is also very flexible and able to fold down small to carry in a pocket if you choose. This hat is available in many colors, including mossy oak camo to desert, to universal digital and black.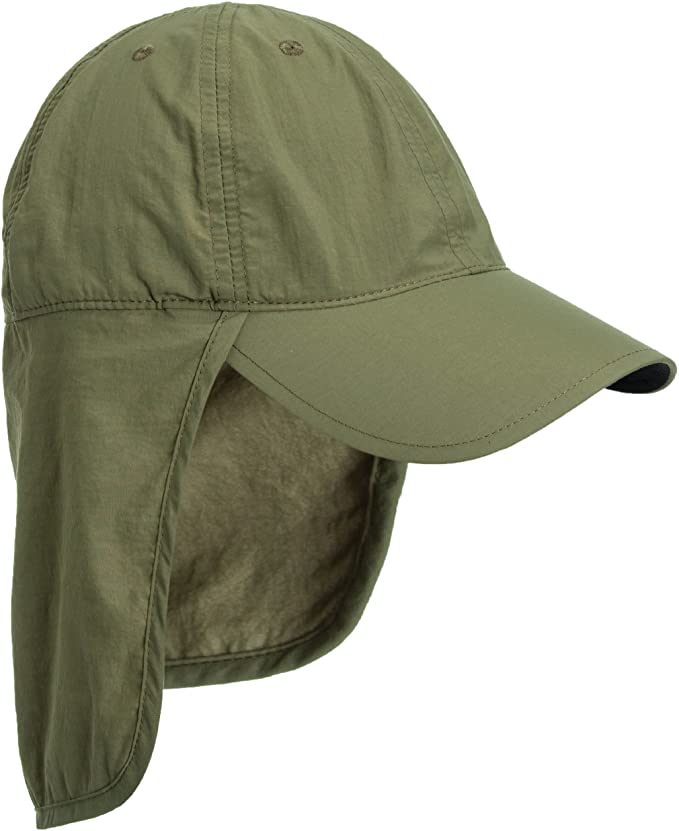 Specifically designed for fishermen, the Cachalot hat from Columbia stays true to its name and is a very well crafted nylon hat. It offers some of the best sun protection out of any hat on our list thanks to its overall design. With ear flaps and a wide brim, you can rest assured that you will be well protected from the sun.
It also features an adjustable drawcord for a better and more secure fit, as well as the usual mesh vents and a sweatband to help wick away any sweat. If you do not want any sun getting to you, this hat is one of the better options. Again, it does come with the Columbia price tag but if you want one of the best fishing hats, it comes with a price.