Fishing is an exciting sport that doesn't require a whole lot of equipment to get started. There are, however, a few simple things that can make a fishing trip much more enjoyable if you have it. One of the most important pieces of "equipment" is finding the best long sleeve fishing shirts.
Since most fishing is done during warmer months, anglers are generally fighting forces of nature such as the hot sun, wind, UV rays, and bugs. A simple long sleeve fishing shirt can help combat each and every one of these things. If you want to have a great day out on the water, you will want to be as comfortable as possible and that is where a quality shirt comes in!
While there are plenty of great long sleeve fishing shirts out on the market, we have gone through and picked five of the best long sleeve fishing shirts that will not only protect you from the elements, but that are stylish and will be a great investment before your next fishing trip!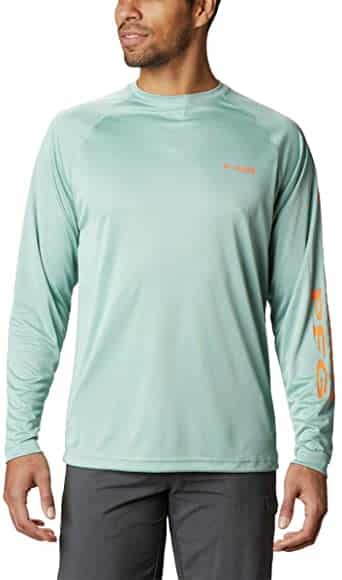 Columbia is a well-known outdoor brand that makes some of the best clothing in the world, and their Terminal Tackle long sleeve fishing shirt is no exception. This shirt features Omni-Wick technology, meaning it will wick away moisture from your body to keep you dry and comfortable all day long. The Columbia shirt excels particularly well in humid areas, where anglers are constantly battling sweat and general dampness. 
This shirt was designed with the fisherman in mind, and the sleeves are designed to stay out of the way of fishing lines and hooks while still providing a comfortable fit. While apparel from Columbia can be a bit pricey, this shirt is pretty reasonably priced and available in a very large array of different colors and sizes.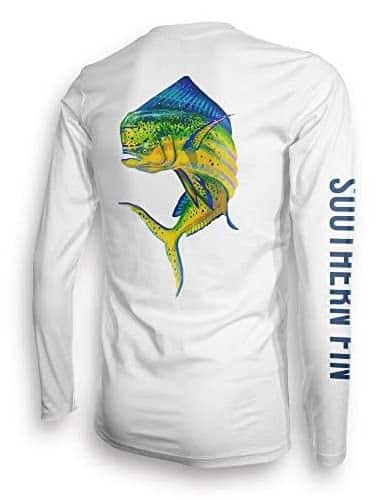 Fishing often involves being in a boat or onshore out in the hot sun all day long, so Southern Fin Apparel set out to help fight this problem. Made for ultimate sun protection and comfort in the heat, this shirt is a must-have for any angler who is serious about avoiding things like sunburns, irritation, and heatstroke.
When it comes to sun protection, this shirt is one of the best. Almost all fishing shirts have some sort of built-in sun protection, but this one offers UPF 50+ that combines with its wicking and moisture control fabric to provide the ultimate hot weather fishing shirt out there. Whether you just want to look cool while fishing, or want one of the best shirts for heat and sun protection, the Southern Fin Apparel long sleeve fishing shirt is an excellent option.
From style to durability, there is not a whole lot that the Naviskin long sleeve fishing shirt does not deliver on. Just like the Southern Fin Apparel shirt, it has a built-in UPF 50+ that protects you from the sun, and the entire design is lightweight and breathable for the warmer weather that you might encounter. It even features a mesh lining on the back to make it even more breathable, and you will find yourself not ever want to go fishing without it.
This shirt also features two chest pockets to hold any belongings that you might have, and one of the pockets has a rod holder loop underneath it. If you want to roll up your sleeves, you will have two small tabs on both arms that will keep the sleeves rolled up for you and keep you comfortable. This shirt almost has it all and is one that just about anybody would be happy to have in their list of gear.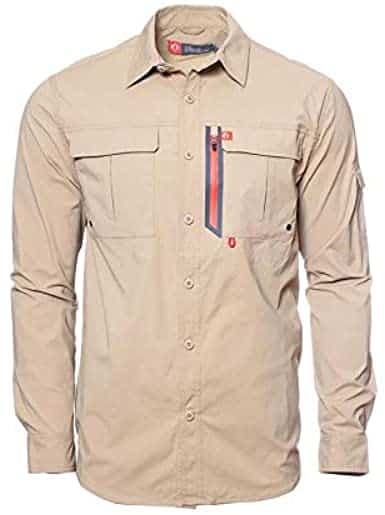 One of the greatest and most premium fishing shirts ever made! The American Outdoorsman Blackfoot River shirt is the ultimate fishing shirt that can do almost anything. Made of a QuickDry material with a built-in UPF 30 sun protection. This shirt might not offer as much sun protection as others here on our list, but it is still plenty to give you great protection while out on the water. Where this shirt really shines, however, is all the built-in features.
The fabric itself is made of ripstop, which helps to increase durability and prevent rips and tears. It features a total of four separate pockets, which will give an angler plenty of room to store extra gear. One pocket in particular is completely waterproof, making it perfect to store sensitive and important items like your cell phone to avoid getting it wet.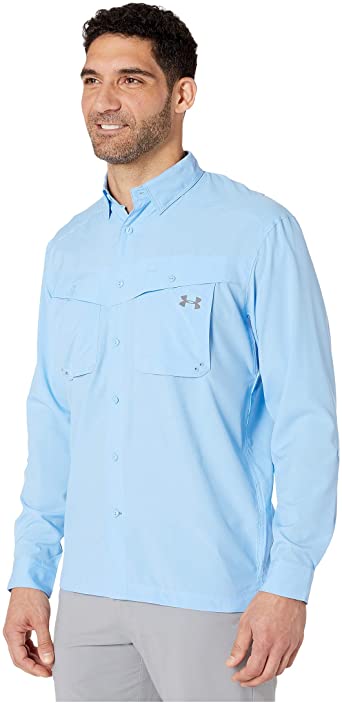 While Under Armour is well known for their action sports and hunting technical apparel, they make great fishing shirts as well. This shirt has a loose and casual cut designed to be super comfortable. Which also contributes to a wide range of motion and breathability while out on the water. Its Moisture Transport System (which is too long of a technical name) wicks away moisture to keep you cool and comfortable no matter the temperature.
This shirt has two chest pockets for extra storage. The material itself will help to not only keep you cool when it is hot, but warm once the sun goes down. If you are looking for a lightweight, stylish, and functional fishing shirt, Under Armour has stepped up to the plate and offered a great option!
Final Thoughts
A good fishing shirt can literally be the difference between a good fishing trip and a great one. That and the right lurer. Staying cool and comfortable will not only make the experience much more pleasant, but it will help you stay focused on the fishing and bring you more success. Anyone of these shirts can help you take your game to the next level, no matter which one you pick!