Fishing can be a great experience, and it helps when you have all of the necessary gear to make the experience even better. One piece of gear that often gets overlooked, at least by anglers who travel out and fish from a boat, is a fishing rod holder. This handy little accessory will keep your fishing rod secure and stable, all while allowing you to manage other gear or do something else entirely. Good fishing rod holders for boats will keep your rods safe and well away from the risk of ever losing them.
With fishing rod holders for boats, you can rest easy that you will not lose your fishing rod. But choosing the right one can sometimes be a challenge. Luckily we have done the work and the research for you, and have compiled a list of some of the best fishing rod holders for boats that you can find!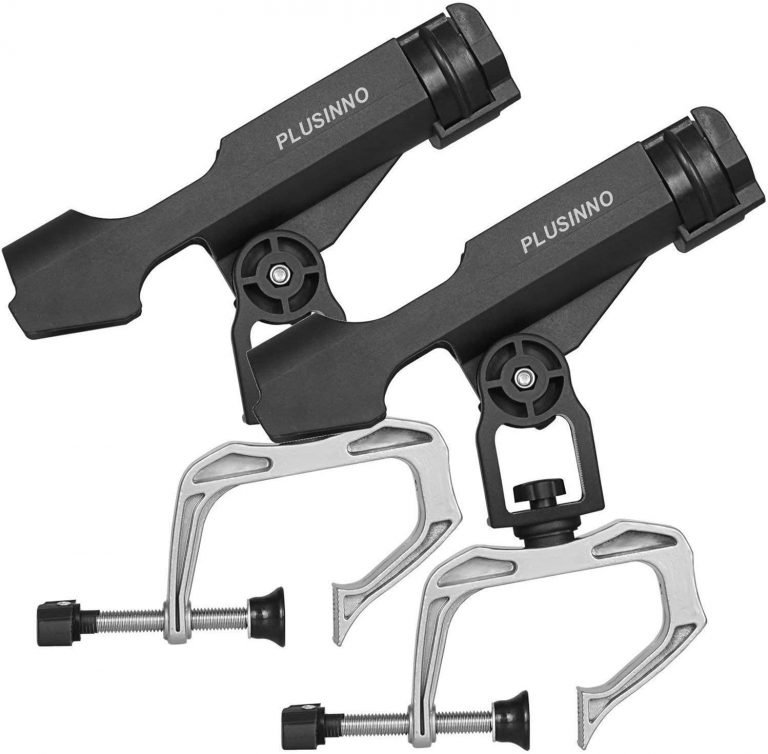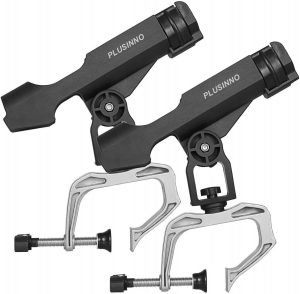 These two-piece clamp-on style rod holders are specifically designed by Plusinno for fishing boats that are going to experience rough waters and nasty conditions. They are very strong and clamp firmly onto any rail or surface of your boat with a strong, stainless steel clamp. The body of the holder is made completely out of ABS steel that is corrosion and impact resistant to make it even tougher. These fishing rod holders should last you a lifetime!
With an adjusting button, these fishing rod holders also allow you to rotate the holder a full 360 degrees in order to get them in the perfect position for either storage or fishing. It is a universal holder and compatible with just about any rod or reel type that you have and is easily one of the strongest and most durable fishing rod holders out on the market today.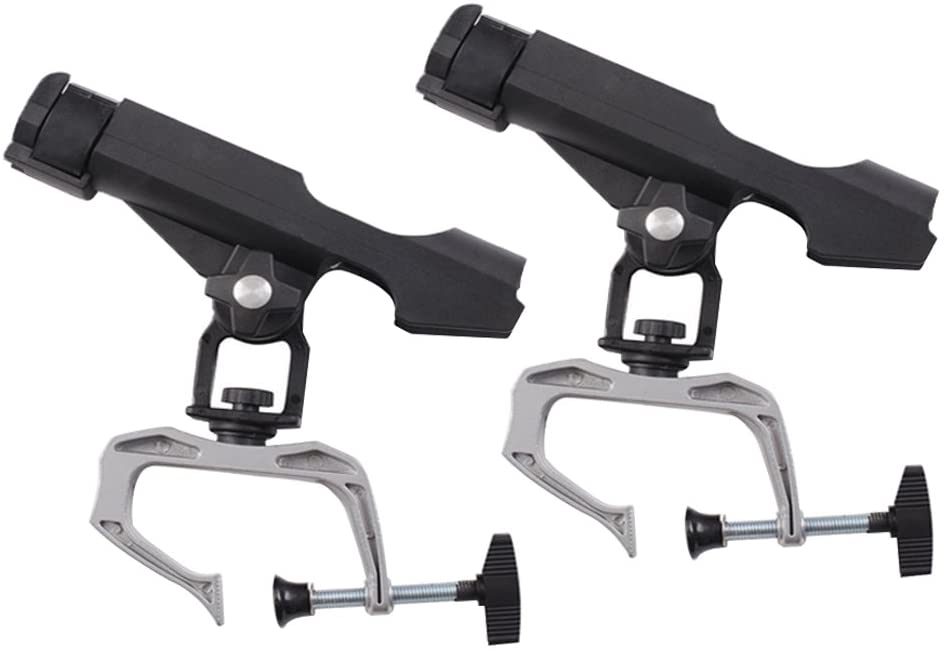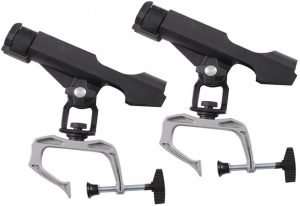 The Agool RH40 fishing rod holder is a great option for anglers who are looking for a more budget-friendly fishing rod holder but still want great versatility and installation options. These rod holders are easy to mount and allow plenty of maneuverability that will give you plenty of hands-free time while fishing. These rod holders can be mounted in many different ways, and work well with any type of rod or reel types or configurations.
Constructed out of ABS steel, these rod holders are very tough and should last a very long time. They are also able to adjust a full 360 degrees, covering any angle and making fishing even easier. The Agool RH40 is a great buy for the price and delivers some great quality at its attractive price tag!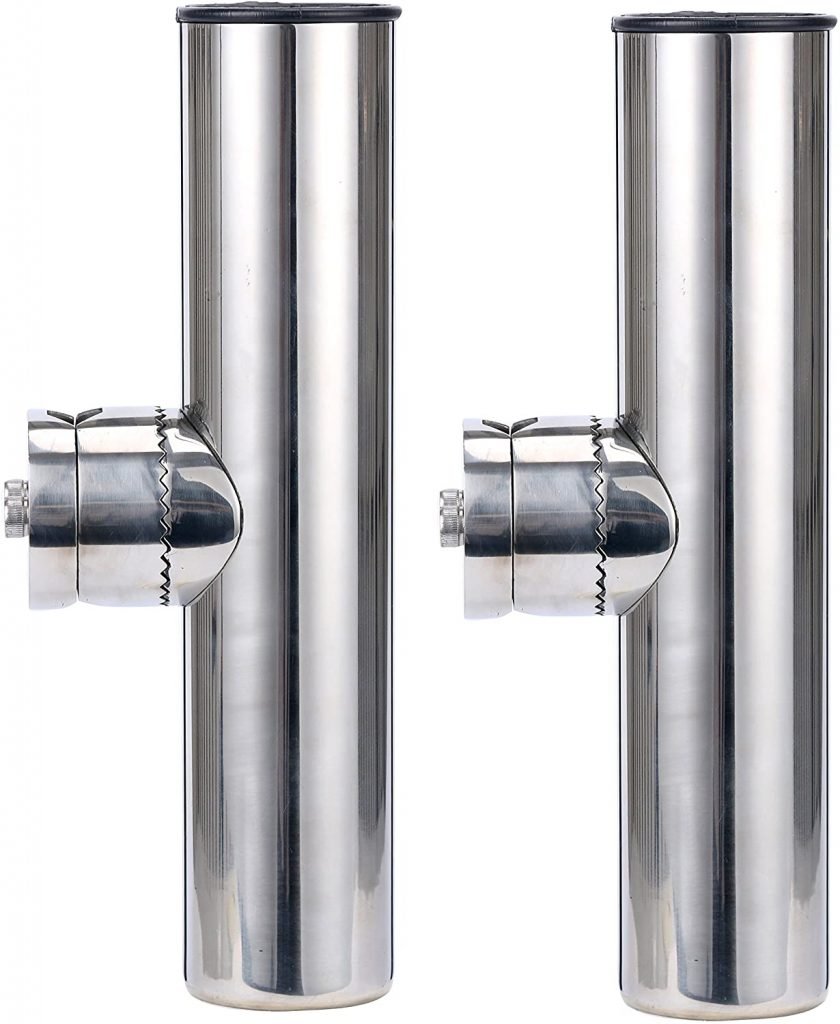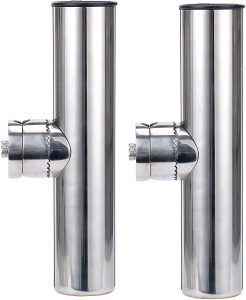 The Amerin-Made fishing rod holders not only function great, but they are also very stylish and look amazing as well. Constructed of stainless steel, the 2 piece design is extremely strong and the shiny exterior give it the best looks out of any other rod holder. Inside of the tubes that hold the rod, you will find rubber inserts that will not only hold your rod better but protect it from the hard metal surfaces and prolong the life of your favorite fishing rod.
These rod holders can be mounted to any horizontal or vertical rails on your boat and can be adjusted to over 32 different angles for ease of use and maneuverability. If you are searching for a durable product that not only functions flawlessly but also looks amazing, then the Amerin-Made fishing rod holder is a great option to go for.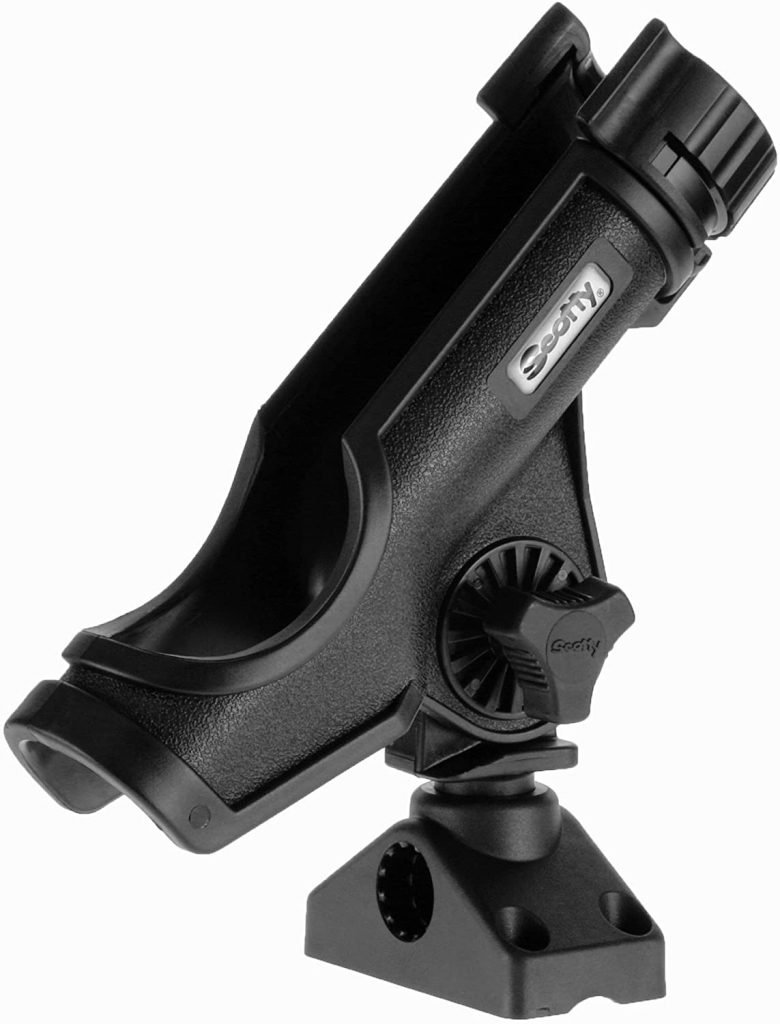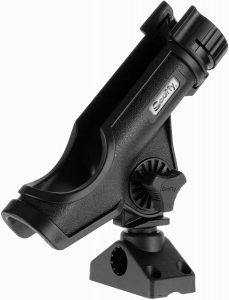 For anglers who want a simple, yet universal fishing rod holder for their boat, the Scotty Power Lock fishing rod holder is one that can hold any type of rod with any type of reel. It does this with its front locking ring that can be tightened to prevent the rod from ever falling off, giving you peace of mind and the ability to use it with any of your fishing equipment.
With its reinforced nylon construction, this rod holder should be able to last you a long time without a problem. It, unfortunately, does not come with any kind of mounting system, but this means that you can use your own and choose the mounting system that you prefer. For the money and the versatility, the Scotty Power Lock fishing rod holder is a great choice for anglers looking for the most universal option out there.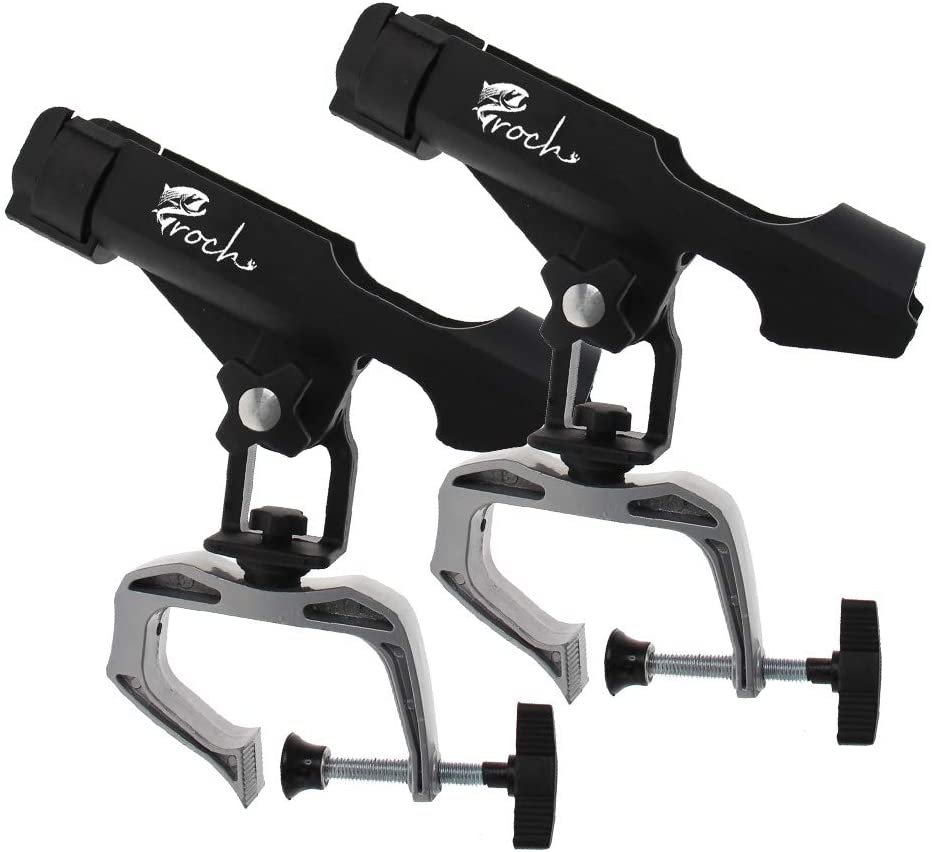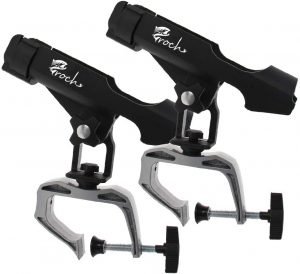 For anglers looking for a strong and rock-solid option for holding their favorite fishing rods, the Croch fishing rod holder has a very strong build and dual mounting abilities. Constructed of a very high-grade ABS steel, this rod holder is very durable and will resist any corrosion from the weather or saltwater. It allows an angler to mount it to any rail on a boat, or even to a flat surface, giving you even more options than other traditional fishing rod holders.
This fishing rod holder will give you full 360-degree adjustability so you will always be able to put it where you want. It can hold any type of rod or reel and is one of the highest-rated fishing rod holders out on the market. Any anglers who need a product that will not fail them while out on the boat, the Croch fishing rod holder is a great choice.
Final Thoughts
Most anglers who head out on a boat for a great day of fishing will quickly realize just how important a quality fishing rod holder is. By now you hopefully have a good idea of some of the best fishing rod holders for boats that are available today, and which ones might work best for you, your boat, and your budget. One thing is for certain, you will not want to forget a good fishing rod holder for your boat on your next fishing adventure! Now all you need is a great rod and reel to put in them.