Any fishing trip can be a lot of fun, but there is something special about casting out lures into the ocean, just waiting to see what you catch. Unlike fishing in places like rivers or lakes, the ocean is completely different. There are dozens of species around ever point nad reef, and many of them are giant in size. But, in order to have a good time and maximize your success, you must be using the right saltwater fishing rods and reels for the job. There are many ways to fish in the ocean, so you must also use a rod that suits your type of fishing that you plan on doing. Anglers who head out into open water will benefit from different features and characteristics than one who concentrates their efforts around shallows and reefs.
So what are some options that will help you fish in the ocean, whether you are in the shallows or out in the open deep? You are in luck, as there is a large variety of options available on the market and we have picked out a few that you should look into!
If you are after fish species like tarpon, redfish, or bonefish, then you will need a good rod that will excel at catching fish on the flats. This is where the St. Croix Mojo Inshore combo truly shines. It has an excellent casting range, and it has a fast action tip that allows perfect presentations with easy hooksets. The rod itself is made of graphite and is very rugged. It will last you for years and will provide you with plenty of backbone to handle the biggest fish, while still sensitive enough to detect small bites.
This rod includes stainless steel frames that will last longer and resist rust better than anything else. It is available in two different versions, a 7 foot and 7 foot 6-inch long versions, depending on what rod that you need depending on casting distance or maneuverability. For saltwater anglers that need a rod to fish the flats with, this is a great option at a very affordable price point.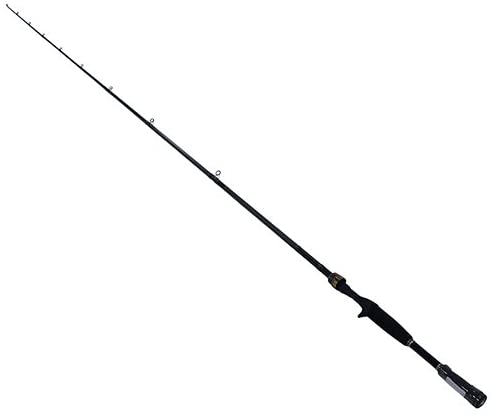 For one of the best saltwater rods that you can find, look no further than the Daiwa Tatula. With its graphite construction, this rod was made for strength and exceptional flexibility, taking your fishing to a whole new level. Accompanied by top of the line ring guides, a machined aluminum reel clamp, and a clear finish, this rod is not only capable of catching giant fish, but it will be comfortable to use the entire time as well.
The Daiwa Tatula has an extremely strong construction and everything about this setup is quality. While it may be a little too fast for some anglers, it is nearly bombproof and will last you for years to come. If you are after big fish and want to ensure that your gear can handle it, then the Daiwa Tatula Saltwater Rod is a perfect choice.


For anglers that are new to fishing in saltwater, it is probably best to look for a saltwater fishing rod and reel combo. This will help you get started much faster, and avoid any complications that come with pairing a rod with the correct reel. For this, the Penn Squall Lever rod and reel combo is a great choice. It is available in two different lengths and powers, so you can catch a large variety of fish species. It can be used for either inshore fishing or offshore boating trips.
The reel on this combo features a graphite frame and aluminum spool that will remain strong and resist corrosion from the saltwater. The lever drag system will allow you to make any adjustments on the fly and better fight fish, making it the perfect choice for beginners. With heavy-duty washers and one-piece construction for better strength, this is a strong combo that will be able to do just about anything you need it to.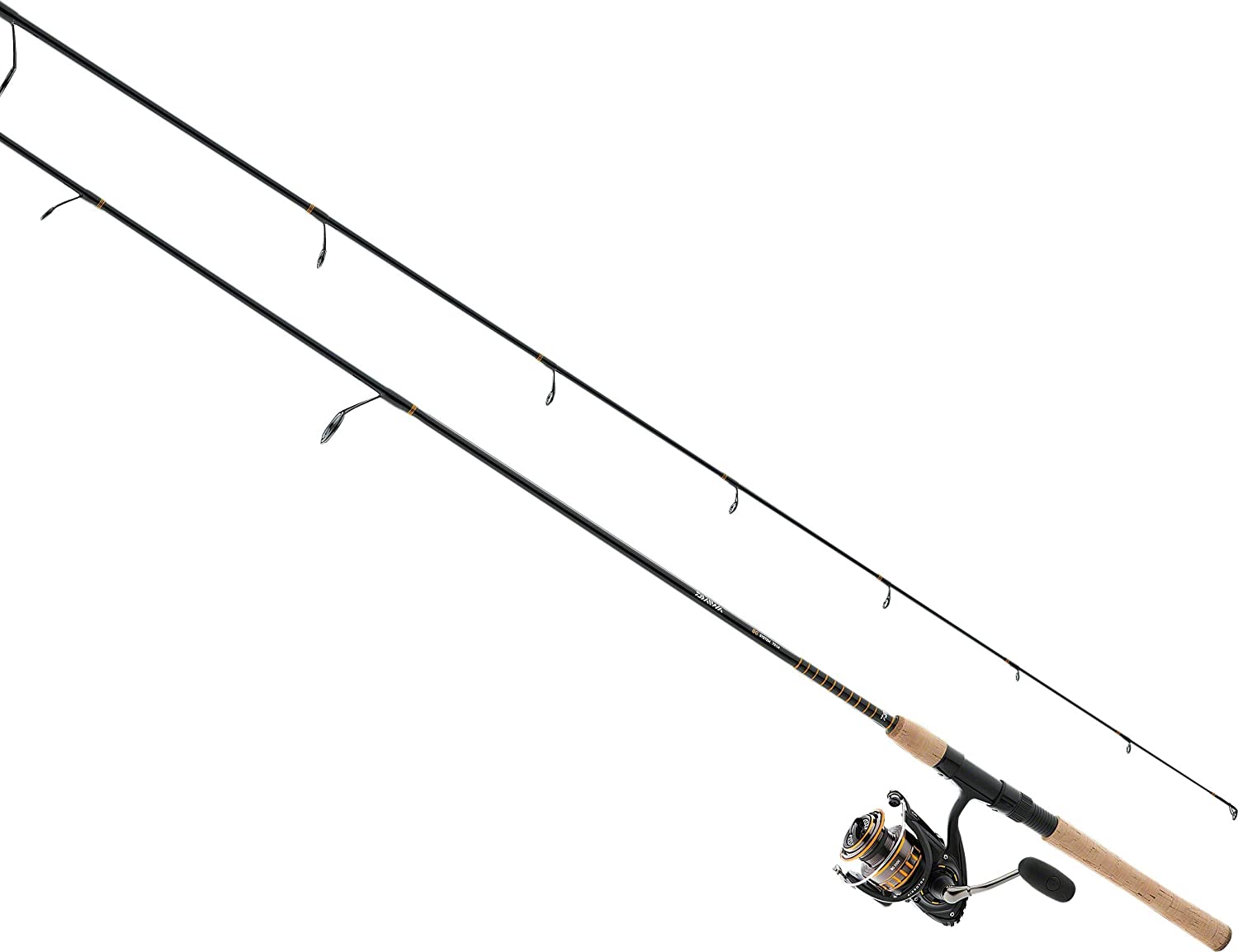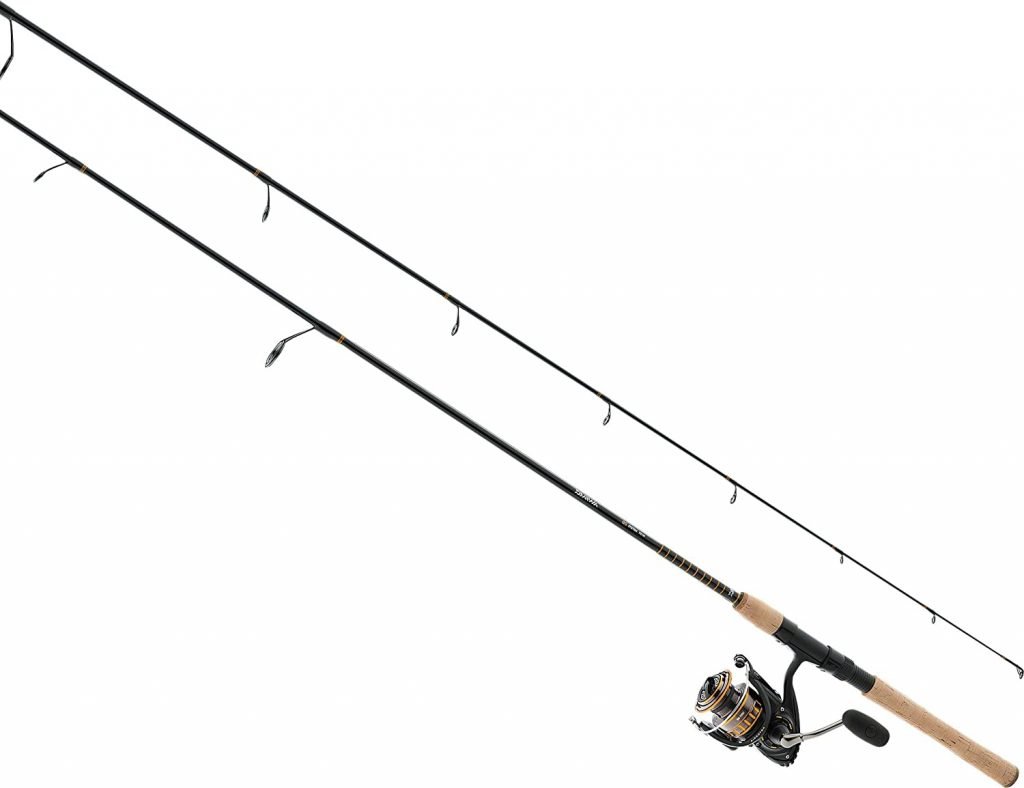 If Combo is out of stock, click here for reel and add rod from "Frequently Bought Together"
Another offering from Daiwa, this combo is a great choice for anglers who like one-piece saltwater poles that are very strong. The seven-foot rod is a combination of graphite and carbon, making it very strong but still plenty flexible. This use of graphite is what gives this rod its amazing strength and sensitivity. The rod is very comfortable and has EVA foam and cork grips to improve handling and to help fight fish once they are caught.
The saltwater reel on this combo has an aluminum frame and side plate, making it very rugged and durable against fights with big saltwater fish without fail. It has six ball-bearing guides to ensure a smooth casting experience and line retrieval, plus the combination of drives and gears for more power and strength. While this option can be a little more pricey than other choices here on our list, if you want a great saltwater rod and reel combo that can do just about anything, than the Daiwa BG2500 is an excellent option.
Final Thoughts
Although saltwater fishing is very popular, it is not an easy sport to get into. Add in the fact that there are hundreds if not thousands of different options for saltwater fishing rods and reels out on the market, and getting into this sport becomes even more difficult. Hopefully, you now have a better idea of a few great choices on saltwater rods and reels. Take your time as you research and review different options, and consider what you might be needing it for. Are you going to be in deep open water? Or chasing fish in the shallows and flats? The answers can help you make a better decision and find that perfect saltwater fishing rod and reel!
Unless you are lucky to live right on the beach, you will need a way to transport your new saltwater fishing rods and reels. Check out this article on roof racks for your gear.