Writing web content for websites involved in the fishing industry means that from time to time, a package arrives at my door. In this case, Mustad sent me a fillet knife set to check out. Being a freelance writer for fishing has its perks after all! So, after a few weeks of staring at them, I decided to dive in and put the knives through the paces, and the results were pleasantly surprising.
Fish Fillet Knife Size Matters
It wasn't until I opened the well-constructed roll-out bag that I noticed the size of these things. This particular set had some big fillet knives, bigger than anything I typically use for species like trout or panfish.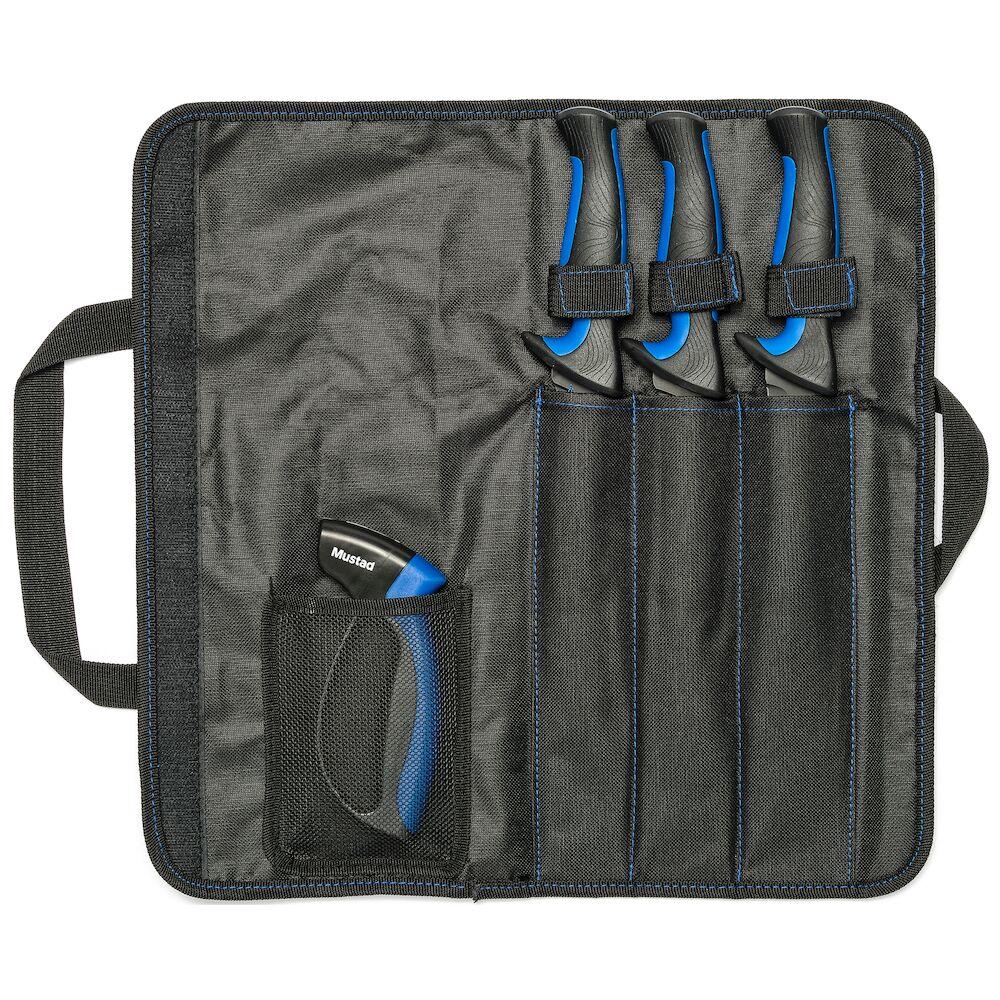 The set includes two fillet knives at 7 and 8 inches, as well as a boning knife that comes in at 9 inches in length, and to complement the knives, Mustad included a hand sharpener as well.
I didn't let the size throw me off. While it won't work for panfish, they seemed to be perfect for salmon, and salmon fishing on the Great Lakes was really starting to heat up for the year.
Fish Fillet Knife Blades
Let's start with the most important part of a fillet knife, the blade.

The knives have some pretty awesome blades, and they were razor-sharp straight out of the sheaths. The thing that stood out right away is the black finish on the blades. The black finish is actually a black Teflon coating that coats the 420 stainless steel.
First thought on the 420 stainless steel is a positive one, I have years of experience working in metal fabrication, and funnily enough, I know a thing or two about metal. 420 stainless steel is great for holding a sharp edge, and this means knives will have excellent edge retention.
While cleaning some salmon at the boat launch cleaning station, I also saw the effects of the Teflon coating first-hand. I have never used a Teflon-coated fillet knife before, and I will say that the non-stick properties of the Teflon make for some incredibly smooth slices and clean fillets with minimal to no tearing or resistance on the meat.
The blades also have the perfect happy spot in terms of flex. They are definitely stiffer than your standard 5-6 inch narrow fillet knife, but they have just the right amount of flex to get very close to the skin, but not enough to be detrimental.
Mustad Fish Fillet Knife Handles
The handles on these knives are incredibly ergonomic and comfortable, not to mention they just flat-out look cool. The top of the handle has a nice thumb impression to all for comfort while applying pressure when cleaning a fish, and the bottom of the handle has a nice curved impression for your pointer finger while also providing a safety stop to prevent any type of hand slip onto the blade.
The handle is a very hard and durable piece of molded plastic, and within the plastic are areas on the top and bottom of the handle that features a soft and grippy material to improve your grip even further.
The Handles are also anti-bacterial, making them great for tropical and warm climates, and in my experience after filleting some salmon, cleaning them is a breeze, with no non-porous surfaces to worry about.
Carrying Case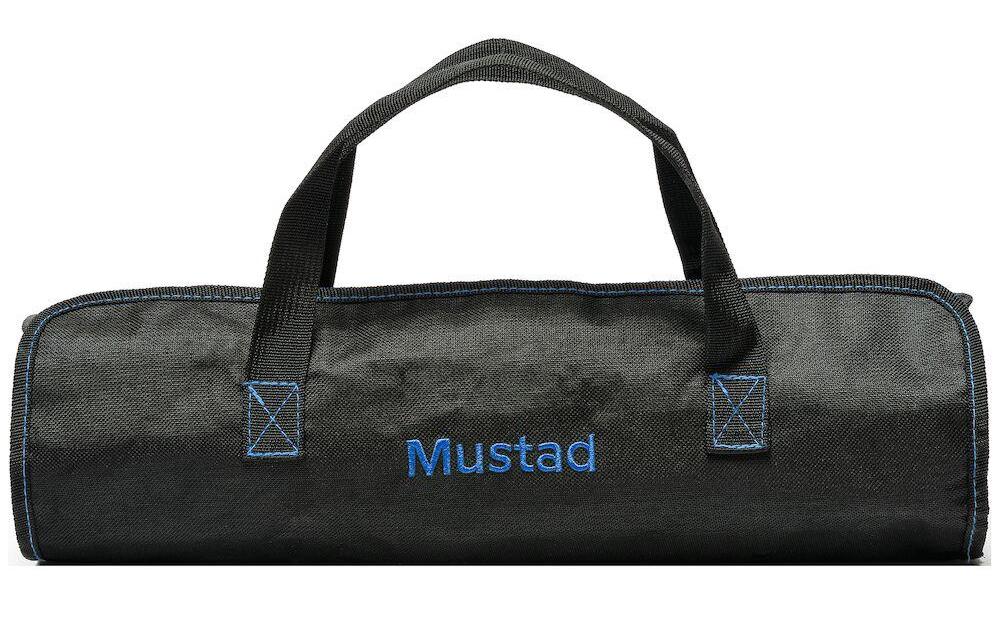 The knives are awesome, but I think the thing I personally like the most out of this entire set is the carrying case.
The soft carrying case is a roll-up style case. When the nice is secure, it is very flat and has a carrying handle. I guess the best way to describe it would be an ultra-thin soft, and flexible Fisherman's briefcase.
This shell for the carry case is highly durable, and it's apparent this thing is tear-proof, and the only con I can think of is how it would probably not be fun to try to get a hook out of it if snagged due to its tough and interwoven design, but that's a non-issue in my opinion.
The securing method of the carrying case is velcro, which is something I'm a huge fan of. If I had a dollar for every time I had a zipper break on other products, I could buy this fillet knife kit, and in the rough and tumble environment of a boat, truck, or garage, It's only a matter of time before a zipper bust or fails. Give me velcro over a zipper any day.
The sheaths for the blades also have a high-impact and durable plastic to protect the blades and velcro loops to secure the handles and keep them in place.
Mustad Fillet Knife Set Final Thoughts
At the price point that Mustad is offering these knives, they are pretty hard to beat, they feature some great design considerations and quality materials, and they work pretty dang well to boot. These knives would be great for anglers who catch and harvest large fish like salmon, catfish, and lake trout, and they would be perfect for saltwater anglers.