Fishing can be challenging enough, so finding the perfect fishing rod and reel combo for beginners to get started with is important. When most anglers are getting started, landing that first fish is key and this means using some of the best equipment that you can.
As a beginner, you want a rod and reel combo that is not only easy to use but that can cast according to you and your style. You might also want to consider things like reel styles, as some are much easier to learn and use than others. These easier to use reels could also help you avoid potential tangles and backlashes!
Whether you are an adult that is just getting into fishing or taking a kid out on the water for their first time, there are plenty of great options out on the market for beginners of all ages. Many of these rod and reel combos even come with all of the needed accessories that a beginner would need to get started. Let's look at a few great options for kids, as well as a few options for adults, that can help any beginner get started out in their fishing journey!
Best Fishing Rod and Reel Combos for Kids
---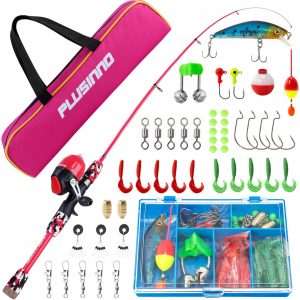 While the brand Plusinno might be relatively new and unheard of in the fishing world, their kids' pole is definitely putting them on the map. This combo package comes with everything you need to help a kid get into fishing, including the fishing rod, reel, and accessories. It has a very simple design that is perfectly suited to teaching any kid the basics of fishing with.
The best part of this combo is that the rod is telescopic, meaning it can fold down to a small size. Weighing only 2.2 ounces, it is perfect for even the smallest of anglers, and the wide assortment of bobbers, jigs, and weights that come with it are just enough to get started just about anywhere you might be fishing.


If you are teaching an older child the basics of fishing, the Shakespeare Youth Ugly Stik GX2 combo would be a great choice as it is bigger than most kids' poles, but still not quite as big as a full-size rod and reel combo. It is both durable and lightweight, giving kids the ability to cast with it repeatedly without getting tired.
The small split grip was specifically designed for smaller hands. Even the reel is able to switch between right and left handed users. This rod and reel combo can handle just about any fish species and is very durable, making it a great tool to teach a kid how to fish.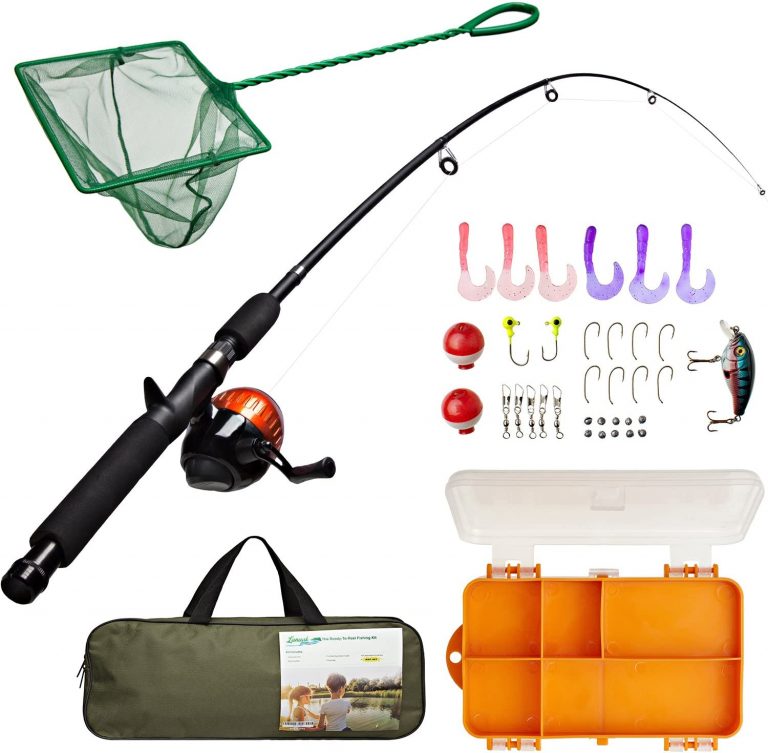 While most kids' rods will come with many accessories, the Lanaak Kids Fishing Rod Combo comes with literally anything a kid might need while out on a fishing trip. From the telescoping rod and spin casting reel to the tackle box full of different lures, hooks, and bobbers, this kit comes with almost everything!
This kit also includes a carry bag to help you keep everything organized and carry it all with one hand. When it comes to fishing rod combos for kids, the experience is what matters and most kids will absolutely love this rod and reel!
Best Fishing Rod and Reel Combo for Beginners – Adults
---


Another offering from Shakespeare, this rod and reel combo is very similar to the youth option except it is made for adults. The durability of this rod and reel combo is excellent, and it is still easy on the wallet. Many anglers report using this setup for over 10 years without any problems, so you know the quality is great!
The reel on this setup is extremely smooth and is very well built. The spool is made out of a finely crafted aluminum. It feels like a very high-end reel at a budget-conscious price. This is one of the most popular beginner fishing rod combos, and it is easy to see why!


Abu Garcia is known for making quality equipment, and their Black Max Combo that is geared towards beginners is no different. The reel with this package is very smooth and extremely lightweight. The drag is very easy to customize, and many anglers will love this rod simply for its ability to take anywhere from an 8-pound test line up to a 30-pound test line and more!
The rod with this combo is graphite, making it very light and easy to use over long periods of time. It is also sensitive enough to feel very light bites, giving you the ability to react quickly to a strike. While it is a slightly higher price than our other picks, this combo is still very budget-friendly. However, it will give you the quality of the equipment that costs 2 or 3 times as much.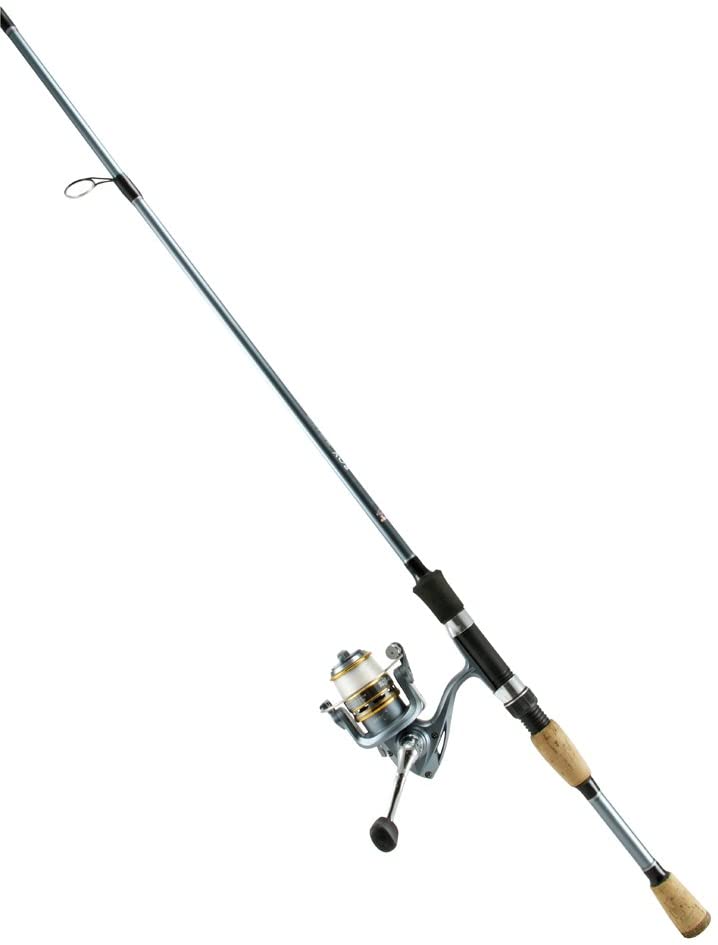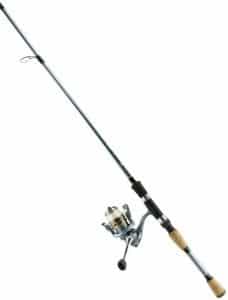 If you are in the market for a spinning rod combo, then the Okuma ROX combo is a great choice. Okuma consistently produces quality rods for low prices, and they are generally very great learning platforms for beginners to use and grow with.
The backbone on this rod is very strong and durable, giving you plenty of horsepower to pull in larger fish. This combo is perfect for just about any freshwater species you can imagine, and can even be used for saltwater fishing as well. Just be sure to thoroughly clean it after use in saltwater.
Final Thoughts
It doesn't matter if you are an adult or youth that is just getting into fishing for the first time, because we all have to start somewhere! Choosing the best fishing rod and reel combo for beginners is extremely important. Luckily there are many companies out there that have taken the initiative to provide quality gear for beginners.
We hope you now have a few different ideas on some great beginner rod and reel combos that will help you in your decision making. No matter what step you are on in beginning your fishing endeavors, having the right rod and reel will help you learn the basics and build your skill level. So that when that next big fish comes along, you will be ready!